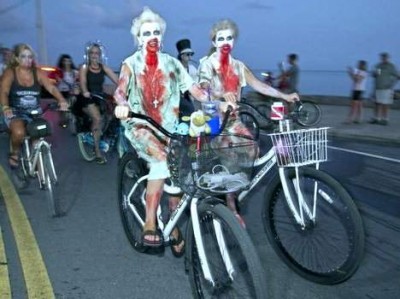 City of Santa Ana
Community Alert: Second Annual Open Street Event – SOMOS in Santa Ana / Segundo Evento Anual de Calles Abiertas – SOMOS en Santa Ana
Second Annual Open Street Event – Ciclovia in Santa Ana: Celebrating the Day of the Dead
The City of Santa Ana is proud to host its second annual Ciclovia – an open streets event where the streets will be closed to cars and opened to bikers, walkers and runners. SOMOS or "Sunday On Main Open Streets" is scheduled for Sunday, November 8, 2015 from 9 am to 2 pm.
In celebration of Día de los Muertos, the event will feature decorations associated with this annual cultural festivity. The public is encouraged to come dressed in the spirit of the Day of the Dead celebration and decorate their bikes, skateboards or strollers! Share with the community that you honor the spirits and value alternative, safe and fun transportation by participating in this automobile-free event. All walkers, runners, and bikers are welcome to have fun and connect with others in a fun and fit way.
The 3.1 mile route in Santa Ana takes you thru what Orange Coast Magazine named the OC's hottest downtown, the Historic Old City Hall and the Historic South Main Business District. Entertainment and activities such as 15 minute yoga sessions, Zumba, and various children events will also be featured.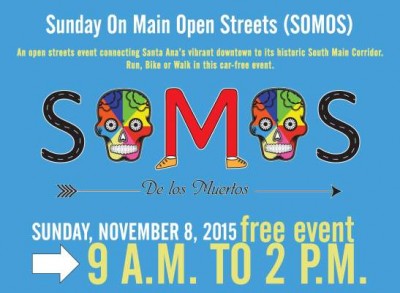 Community organizations and non-profits of the community will be providing a window into what each has to offer and hosting free lively activities throughout the day. Local businesses are also encouraged to take advantage of this unique opportunity to showcase their local business along the route. Santa Ana Traffic Engineering and the Police Department will work to minimize disruption to neighboring businesses and neighborhoods while keeping safety as its top priority.
For questions regarding the event or to participate as a featured entertainer/vendor throughout the route, please contact Bill Sandoval at (714) 571-4258 or email wsandoval@santa-ana.org or visit http://www.ci.santa-ana.ca.us/parks/somos/.
###