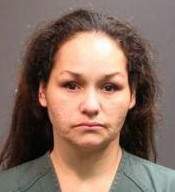 Concepcion Estrella Perez, 42, and Lisa Marie Herrera, 38, a Santa Ana couple (Perez is a man although his name is feminine) were arrested by the SAPD as suspects in the beating and stabbing of a gas station customer, according to the O.C. Register.
The couple were booked on suspicion of attempted murder as well as multiple outstanding theft warrants, according to the SAPD.
The SAPD is still looking for a third suspect involved in the attack on a 53-year-old man, who was hospitalized in serious condition with stab wounds to his upper torso but is expected to survive his injuries.
The fracas went down on Monday night at a Chevron gas station located at 1104 S. Bristol St., when the victim and the suspects got into an argument that started in the gas station's store and then developed into a physical brawl in which the victim was stabbed.
The police are not yet clear on what started the conflict. However they believe that Perez may have felt that the victim in some way disrespected him.
Perez and Herrera tried to get away after the stabbing but were caught by the SAPD a short time later.
Perez is suspected of stabbing the victim. He was found with a bloody knife and a rag that he used to try to clean the knife. He was identified by a witness.
The remaining at large suspect is a Latino man who stands about 5-feet-8 to 5-feet-10 and weighs from 140 to 160 pounds with a thin build and short black hair. He was wearing a white, long-sleeve shirt, blue jeans and black dress shoes at the time of the attack. His description probably applies to several thousand men in Santa Ana…