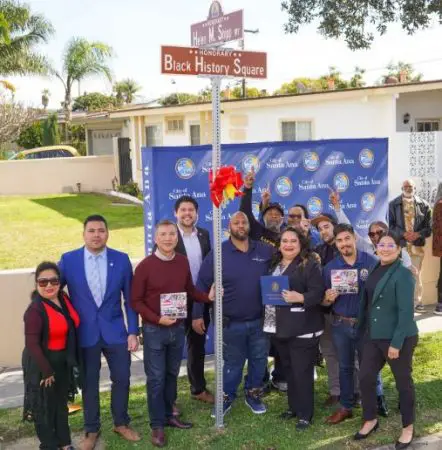 Today the City of Santa Ana unveiled their first ceremonial street sign toppers as part of the new ceremonial street naming program created by the City Council.
These first toppers recognize Santa Ana's African-American heritage, coinciding with Black History Month. Willits Street from Fairview to Bristol streets now has the honorary name Helen M. Shipp Way, for the founder of the Orange County Black History Parade & Cultural Faire. The intersection of Willits and Raitt streets is designated as Black History Square.
Mayor Valerie Amezcua, Mayor Pro Tem Jessie Lopez and Councilmember Johnathan Ryan Hernandez were joined by Orange County Supervisor Vicente Sarmiento, the Shipp family and many community members for this historic moment.
The ceremonial street name program is used to commemorate the services, lives and achievements of individuals, groups or landmarks that have had an impact on Santa Ana. These are ceremonial names that don't change the official names of the streets or local addresses.
To read more about the program and submit an application, visit https://www.santa-ana.org/ceremonial-street-sign-topper/.