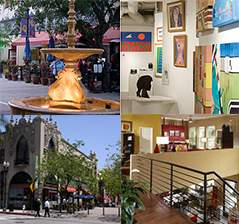 City of Santa Ana, Downtown Orange County
Community Alert: INVESTING IN THE ARTIST GRANT OPPORTUNITY
The City of Santa Ana announces the "Investing in the Artist," an exciting grant opportunity that serves as a catalyst to enhance Santa Ana's vibrant local art scene. Grants will be awarded to artists living or creating in Santa Ana and organizations with an arts and culture focus serving Santa Ana communities. Awards will be funded in $5,000 or $10,000 increments with approximately $85,000 available for distribution.
"It's exciting to launch this program designed for talented artists and organizations dedicated to furthering the vibrant arts movement in Santa Ana," says Mayor Miguel Pulido. "This program provides resources for visionary work being created by our community and for our community," he adds.
Applicants will be rated and recommended by the City of Santa Ana's Arts and Culture Commission with final award selection by the Santa Ana City Council. More information can be found at www.santa-ana.org/artistgrant. An Information Session will be held on April 30th at City Hall in the Ross Annex Room 1600 (20 Civic Center Plaza, Santa Ana, CA) at 5:30 p.m.
Applications can be accessed at: www.cityofsantaana.submittable.com/submit
About the City of Santa Ana:
Santa Ana, located at the heart of Orange County is home to 330,000 residents and 14,000 businesses. With over 50 city parks and recreation facilities, Santa Ana offers a superior quality of life, enhanced by a hip and historic downtown. Ranked the 4th safest city among large cities in the nation by Forbes Magazine, Santa Ana is rich in arts and culture and boasts abundant and diverse shopping opportunities. With the top producing BMW dealership in the Western United States, top rated educational institutions and the much anticipated street car, Santa Ana is Orange County's urban center.
###