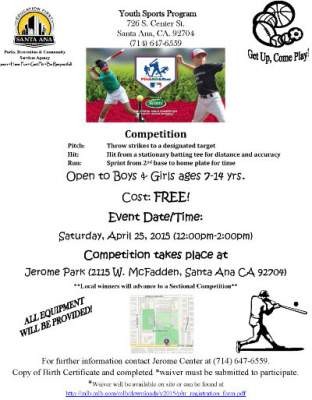 City of Santa Ana, Downtown Orange County
Community Alert: 2015 Pitch, Hit & Run Competition – Saturday, April 25th at Jerome Park / Competencia de Lanzar, Batear y Correr
The City of Santa Ana's Parks, Recreation and Community Services Agency Youth Sports Program is proud to be a host site for the 2015 Pitch, Hit & Run competition. The Pitch, Hit & Run is the official skills competition of Major League Baseball. This grassroots program is designed to provide youngsters with an opportunity to participate – free of charge – in a competition that recognizes individual excellence in core baseball/softball skills.
The competition will take place on Saturday, April 25, 2015 at Jerome Park between 12:00 p.m. – 2:00 p.m. Boys and girls ages 7 – 14 can compete and will be divided into four age divisions: 7/8, 9/10, 11/12 and 13/14. All necessary equipment will be provided.
Participants will compete in three areas:
• Pitch – throw strikes to a designated target
• Hit – hit from a stationary batting tee for distance and accuracy
• Run – sprint from 2nd base to home plate for time
All participants will have the chance to advance through four levels of competition, including Team Championships at Major League ballparks and the National Finals at the 2015 MLB All-Star Game. Participants must bring a copy of their birth certificate and have their parent or guardian fill out a registration/waiver form prior to the start of the competition.
Jerome Park is located at 2115 W. McFadden Ave., Santa Ana, CA 92704. For questions concerning the competition please contact Jerome Center at 714-647-6559.