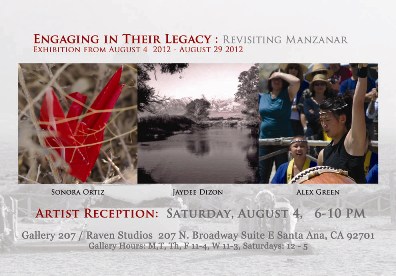 For Immediate Release
Jaydee Dizon, 310.962.4520
History of Manzanar shown at Gallery 207
Revisiting Manzanar is a part of the ongoing photography and video installation called, Engaging In Their Legacy. A collaborative art project capturing the present environment of an American Concentration Camp located in the Owens Valley during WWII. Created by artists, Jaydee Dizon, Sonora Ortiz and Alex Green who documented the 43rd Annual Pilgrimage in Manzanar on April 2012.
Show your support and join us in the Artist Reception on Saturday August 4th from 6-10 PM at Gallery 207/ Raven Studios, 207 N. Broadway St. Suite E, Santa Ana 92701!
Also Featuring a local Orange County Artist:
*Mark Hosmer, who has been specializing in night scenes since 1989, using a hard-edged realism to render his subjects, which include houses, commercial buildings, street scenes, and an occasional interior or landscape.
And Artist Members of Gallery 207 artworks on display:
Ben Walker, a self taught Artist/Painter. Love, Sex, Death: A Story About a Nobody series.
Shelly Stokes, Photographer. Captures the 2011 Pasadena Windstorms.
Ingrid Reeve, Painter. Abstract Landscape series…"memory of a landscape."
Krystof Andres, Photographer & Cinematographer's documentation of the earthquake in Haiti 2010
Gallery 207 is dedicated in promoting traditional and contemporary artists from Southern and Northern California and plans to build relationships all over the US and internationally in the near future.
Gallery 207 / Raven Studios
207 N. Broadway Street, Suite E, Santa Ana, CA 92701
Closing Reception: Saturday, August 25th, 12-5 PM
Gallery hours: M,T, Th, F 11-4, Wednesday 11-3
Saturday 12-5 Saturdays 6-10 PM, Saturdays 12-5 PM
Visit us on the web at http://gallery207.org for more information!
END