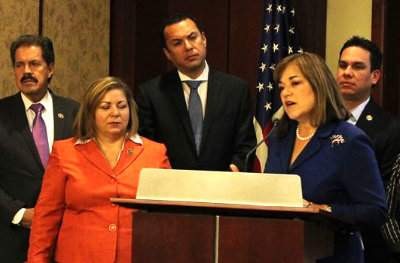 Congresswoman Loretta Sanchez, Representing California's 46th Congressional District
STATEMENT, FOR IMMEDIATE RELEASE: November 10, 2015
MEDIA CONTACT: Emily Morris, 202-225-2965, Emily.Morris@mail.house.gov
REP. LORETTA SANCHEZ STATEMENT ON 5TH CIRCUIT DECISION ON IMMIGRATION EXECUTIVE ACTIONS
WASHINGTON, D.C. – Congresswoman Loretta Sanchez (CA-46), senior member of the House Homeland Security Committee, released the following statement regarding the U.S. Court of Appeals for the Fifth Circuit decision to maintain an injunction on the Deferred Action for Parents of Americans (DAPA) and the expanded Deferred Action for Childhood (DACA) Arrivals program:
"This upsetting decision by the Fifth Circuit is yet another setback for our dysfunctional immigration system.
"DAPA and the expansion of DACA would have allowed many families to come out of the shadows. Separating hard-working immigrant families from their loved ones and DREAMERS from the only country they've ever known hurts our country and leaves our families, businesses and economy hanging in the balance.
"President Obama's executive actions followed precedents set in the last 50 years by Presidents from both parties. The battle to fix our broken immigration system now seems to be on a course to the Supreme Court. America deserves a fair and just immigration system.
"Blocking comprehensive immigration reform stunts America's progress. We cannot rely on the courts to correct this injustice. Congress must take action to pass comprehensive immigration reform and voters must make their voices heard at the ballot box."
###
Congresswoman Loretta Sanchez is proud to represent California's 46th Congressional District, which includes the cities of Anaheim, Santa Ana, and parts of the cities of Garden Grove and Orange in Orange County. She serves as Ranking Member of the House Armed Services Subcommittee on Tactical Air and Land Forces and as the second ranked Democrat on the Committee on Homeland Security.