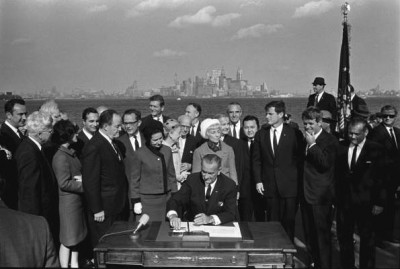 Congresswoman Loretta Sanchez, Representing California's 46th Congressional District
STATEMENT, FOR IMMEDIATE RELEASE: October 2, 2015
MEDIA CONTACT: Emily Morris, 202-225-2965, Emily.Morris@mail.house.gov
REP. LORETTA SANCHEZ STATEMENT ON 50th ANNIVERSARY OF IMMIGRATION & NATIONALITY ACT OF 1965
WASHINGTON, D.C. – Congresswoman Loretta Sanchez (CA-46) released the following statement commemorating the 50th anniversary of the Immigration & Nationality Act of 1965 (Hart-Celler Act), which banned discriminatory immigration quotas based on national origin and was signed into law on October 3rd, 1965.
"50 years after President Lyndon B. Johnson signed landmark legislation to end discriminatory and harmful racial quotas in our immigration system, our immigration system is in a state of dysfunction and our country is yet again consumed by divisive and fear mongering rhetoric about immigrants and refugees.
"Blocking comprehensive immigration reform stunts our economy's progress and allows exploitation of workers. Immigration reform would reduce our deficit by nearly $1 trillion over a 20 year period and would add an average of 159,000 new jobs per year if undocumented immigrants acquired legal status today and citizenship in five years.
"The American people demand a vote on comprehensive immigration reform. I am demanding a vote because we've been saying 'the time is now' for too long, and we can't wait any longer.
"I will continue to fight for commonsense immigration reform to offer hardworking immigrants a pathway to citizenship, keep families together, and secure our borders."
###
Congresswoman Loretta Sanchez is proud to represent California's 46th Congressional District, which includes the cities of Anaheim, Santa Ana, and parts of the cities of Garden Grove and Orange in Orange County. She serves as Ranking Member of the House Armed Services Subcommittee on Tactical Air and Land Forces and as the second ranked Democrat on the Committee on Homeland Security, and as co-chair of the Immigration and Border Issues Task Force for the Congressional Hispanic Caucus.