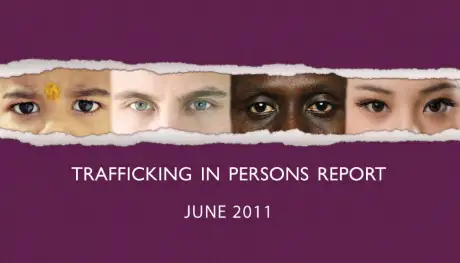 Congresswoman Loretta Sanchez, Representing California's 47th Congressional District
PRESS RELEASE, FOR IMMEDIATE RELEASE: June 28, 2011
MEDIA CONTACT: Adrienne Watson 202-309-0825
REP. LORETTA SANCHEZ ISSUES STATEMENT ON RELEASE OF KEY HUMAN TRAFFICKING REPORT
WASHINGTON, D.C. –Congresswoman Loretta Sanchez (CA-47), co-chair of the Congressional Caucus on Vietnam, today issued the following statement regarding the Department of State's release of the 2011 Trafficking in Persons (TIP) Report. The TIP Report outlines the challenges face in preventing and prosecuting human trafficking cases in the U.S. and around the world. It is the product of a collaborative process involving the Department of State's Office to Monitor and Combat Trafficking in Persons and embassies and NGOs of 184 countries.
"The annual release of the Trafficking in Persons report by the State Department reflects the United States' deep commitment to stop the brutal crime of human trafficking," said Sanchez. "The exploitation of the world's most defenseless and vulnerable citizens is immoral and unacceptable and I call upon all countries to confront this evil.
"Last year, as the most senior female on the House Armed Services Committee, I conducted military site visits and a security tour throughout critical parts of the Philippines, Cambodia, Singapore, and Taiwan. There, I had the opportunity to meet with a network of faith and community based NGOs to call attention to the plight of domestic workers and trafficking victims. It was so sad to see girls as young at 8 sold into domestic servitude, exploited for commercial sex, or forced into labor at factories and sweatshops.
"The TIP Report acknowledges countries that have made enormous strides in combating human trafficking around the world and these countries should be commended and encouraged to continue efforts. Other countries have willingly ignored the problem of human trafficking, failing to take steps to protect defenseless persons from those who seek to profit from a modern day slave trade.
"Vietnam, for the second year in a row, has been placed on the State Department's Tier 2 Watch List. It is imperative that we secure a commitment from the Vietnamese government that they will strengthen their efforts to fight trafficking and will enact laws enhancing the government's ability to prevent this terrible practice."
Congresswoman Loretta Sanchez is proud to represent California's 47th Congressional District, which includes the cities of Anaheim, Garden Grove, Santa Ana, and parts of Fullerton in Orange County. She serves as Ranking Member of the House Armed Services Subcommittee on Strategic Forces and a senior member of the Committee on Homeland Security. Rep. Sanchez is also a member of the fiscally conservative Blue Dog Coalition and sits on the bipartisan, bicameral Joint Economic Committee.
# # #
United States House of Representatives
1114 Longworth House Office Building • Washington, DC 20515
Phone: 202-225-2965 • Fax: 202-225-5859