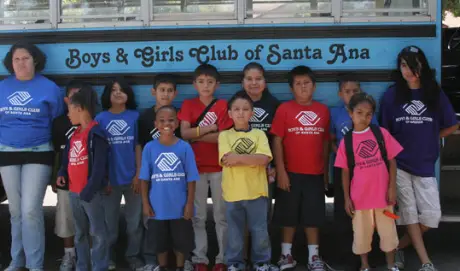 Boys & Girls Club of Santa Ana Announces New Officers
SANTA ANA, Calif. – The Boys & Girls Club of Santa Ana announced last week the election of new officers, effective July 1, 2011. All four officers have been reliable members of the Club's Board of Directors, and two of them are taking on new roles within the organization. Wayne Pinnell will serve as President after three years as Vice President; Shannon Tucker will serve as Vice President; Tad Danz will continue to serve as Treasurer and Silvia Edwards-Fidanza will continue to serve as Secretary. As officers, these four individuals are tasked with leading a group of 31 Board members whose focus is on governance of and fundraising for an organization that recently earned a 4-Star Rating from Charity Navigator for sound fiscal management.
Wayne Pinnell has served as a Board volunteer with the Boys & Girls Club of Santa Ana for seven years and is Managing Partner at Haskell & White, LLC. He has played in various roles within the organization, most recently as Vice President, and he is active in other organizations throughout Orange County.
Shannon Tucker, who shares her Board seat with her husband Frank, has been a member of the Board of Directors for six years. She works for St. Joseph Home Health and is currently the BGCSA Gala & Auction Committee Co-Chair in addition to acting as the Chair of the Boys & Girls Clubs of Orange County Area Council. Frank is a Vice President at Taco Bell.
Tad Danz has been with the organization for over 10 years, offering guidance and leadership in the area of finance. As Treasurer since 2003, he has helped ensure the Club's ability to serve as many children as possible with the dollars raised from the community. Danz is President of Newport Diversified.
Silvia Edwards-Fidanza joined the Board six years ago, representing one of the Club's lead contributors, Waste Management of Orange County. Edwards-Fidanza has been acting Secretary since 2005 and will continue her role with the Club, in addition to acting as Chair of the Resource Development Committee, whose focus is on Board and individual fundraising.
The Boys & Girls Club of Santa Ana offers academic, physical fitness and life skills programs to the children that need us most at six locations throughout the community during after school hours and for the entire day during the summer. Our Board of Directors ensures the Club runs effectively and efficiently, while also connecting the organization to partners and investors throughout Orange County.
For more information about the Boys & Girls Club of Santa Ana and its Board of Directors, please contact Robert Santana at 714-543-5540 or robertsantana@boysandgirlsclub.com.
– 30 –