Read Conmigo Celebrates the 3rd Annual Bilingual Literacy Month With Bi-Coastal Kick-Offs & Interactive Activities in May
The bilingual literacy program also launches its national "Bilingual Educator of the Year" search to recognize the outstanding work of bilingual teachers in U.S. classrooms
LOS ANGELES, April 29, 2016 /PRNewswire/ — Read Conmigo, the national award-winning bilingual literacy program sponsored by Infinity Auto Insurance, will celebrate its 3rd Annual Bilingual Literacy Month this May with bi-coastal kick-off events and specially planned activities nationwide all month long. With studies showing that reading is key to a young student's academic success, Bilingual Literacy Month looks to promote the educational, social and financial benefits of reading in two languages while providing free books to parents at events to create a lifelong love of reading with their children.
"Read Conmigo has set out to bridge the resource gap for Hispanic parents by making bilingual storybooks and online resources available to them anytime," said James Gober, Chairman and Chief Executive Officer of Infinity Property and Casualty Corporation, the parent company of Infinity Auto Insurance. "During Bilingual Literacy Month and beyond, we will encourage families to incorporate daily reading time into their activities as a means of investing in their kids' long-term educational success."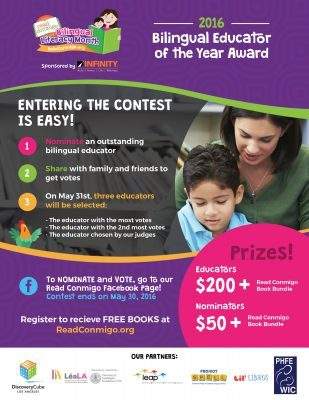 In Los Angeles, Read Conmigo will kick-off the Bilingual Literacy Month festivities alongside the Consulate General of Mexico during its "Dia de los Niños" (Children's Day) festivities attended by over 320 children, while in Miami, the program will be celebrating with the premiere of the documentary Read Conmigo: A Journey to Bilingual America, which highlights the educational advantages of mastering bilingualism. Other scheduled Bilingual Literacy Month activities include:
Saturday, May 14th – Participation at the Discovery Cube Orange County in Santa Ana
Bringing full circle the importance of bilingual literacy in a child's life, Read Conmigo is also launching its search for exemplary bilingual teachers through the creation of the "Bilingual Educator of the Year" Award. Parents, students and school administrators are encouraged to recognize the work and dedication of their favorite bilingual teacher by nominating them for this special acknowledgment and a cash prize for both the winning educators and their nominators. To nominate and vote for an educator:
Go to the Read Conmigo Facebook Page
Last day to nominate and vote for an educator is May 30, 2016
On May 31st, three winners will be selected:
The educator with the most votes
The educator with the second most votes
The educator chosen by a blue ribbon panel of judges
Educators will receive a $200 prize and a Read Conmigo Book Bundle and their nominators will receive a $50 prize and a Read Conmigo Book Bundle. The official rules are available on the Bilingual Educator Contest tab of the Read Conmigo Facebook page.
Read Conmigo and Bilingual Literacy Month is supported by the Council of Mexican Federations (COFEM), Discovery Cube Los Angeles, LéaLA, parenting & multiculturalism author Maritere Rodriguez Bellas, children's authors Patty Rodriguez and Ariana Stein of Lil' Libros, and the Consulate General of Mexico in Los Angeles, among others.
For more information on Bilingual Literacy Month visit www.ReadConmigo.org or follow Read Conmigo on Facebook, Twitter, Google+ or Instagram.
About Read Conmigo
Infinity Auto Insurance is driven to serve others. Read Conmigo represents one of Infinity's largest investments in the community. By providing parents with bilingual storybooks, apps, and online resources, Read Conmigo bridges the gap for many Hispanic parents who hesitate to read to their children in English or Spanish due to language barriers. The program has already distributed more than 1,000,000 free books to classrooms and Hispanic families, and receives support from more than 11,000 educators. The program also creates opportunities for new Hispanic authors and illustrators. For more information: www.ReadConmigo.org.