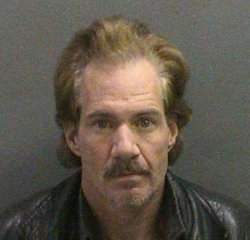 Orange County District Attorney Press Release
For Immediate Release: September 17, 2014
Case # 13WF0669
MAN LINKED THROUGH DNA SENTENCED TO 40 YEARS TO LIFE IN PRISON FOR FORCIBLY RAPING TWO WOMEN IN 2004 COLD-CASE
SANTA ANA – A man was sentenced today to 40 years to life in state prison for forcibly raping two women after being linked to the cold-case sexual assaults through DNA. Kevin Lawrence Saint John, 45, Hemet, was found guilty by a jury Aug. 20, 2014, of two felony counts of forcible rape with sentencing enhancement allegations for committing a sexual assault against multiple victims and committing a sexual assault during the commission of a kidnapping.
At approximately 3:00 a.m. on Aug. 10, 2004, Saint John entered a 7-Eleven convenience store in Westminster wearing a baseball cap pulled down over his face. He approached 21-year-old Jane Doe #1 in the back area of the store, where she was working. The defendant forced the victim into the freezer area away from the view of any customers and forcibly raped her. He then carried empty boxes out and covered his face from surveillance cameras as he left the store.
Between the late evening hours on Sept. 7, 2004, and early morning hours on Sept. 8, 2004, Saint John approached 21-year-old Jane Doe #2, who was using a payphone in a Walmart parking lot in Cathedral City to find a ride home. Saint John offered Jane Doe #2 a ride, to which she agreed. During the ride, Saint John drove to a deserted construction area in the City of Highland, where he pulled over his vehicle and forcibly raped Jane Doe #2.
In 2012, Saint John was convicted of receiving stolen property in Riverside County and his DNA was entered into the state DNA database and subsequently matched to the DNA collected from the crime scenes in 2004.
On March 7, 2013, the Westminster Police Department (WPD) arrested Saint John at his residence in Rancho Cucamonga. WPD, the Palm Springs Police Department, and the San Bernardino County Sheriff's Department investigated this case. The Orange County District Attorney's Office prosecuted Saint John for the crimes committed in Orange and San Bernardino Counties.
At the sentencing today, a written victim impact statement from Jane Doe #1 was read to the court, in which the victim describes the devastation caused by Saint John. Jane Doe #1 said that the defendant took away her ability to trust, damaged her relationship with her family, and made her feel that her life was not worth living.
Deputy District Attorney Lexie Elliott of the Sexual Assault Unit prosecuted this case.
###
Tony Rackauckas, District Attorney
401 Civic Center Drive West
Santa Ana, CA 92701
Contacts:
Susan Kang Schroeder
Chief of Staff
Office: 714-347-8408
Cell: 714-292-2718
Farrah Emami
Director of Public Affairs
Office: 714-347-8405
Cell: 714-323-4486