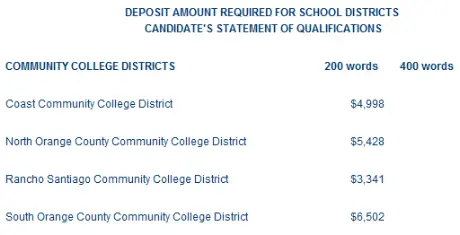 Running for Community College Districts in Orange County can cost a fortune
For whatever reason, the Rancho Santiago Community College District's (RSCCD) Trustees are running unopposed this November.  What that means is that John Hanna will be automatically elected in Area 2, and his colleagues Larry Labrado and Phil Yarbrough will likewise be automatically reelected in Area 3.

This isn't how our system of democracy is supposed to work.  In the case of Hanna, I am glad that he will be serving us once more, as he is a genuinely caring individual and an honorable politician, which is a rare trait in Orange County.
Labrado is the last surviving Latino on the Board.  When former RSCCD Trustee Alfredo Amezcua abruptly quit the board a couple years ago, a lot of us hoped that another Latino would get elected.  Unfortunately his seat ended up going to Mark McLoughlin, a Floral Park resident who was heavily involved in the recall of former SAUSD Trustee Nativo Lopez.  McLoughlin also opposed the opening of a new neighborhood school in his area.
Yarbrough is a partisan Republican who is allied with some of the most conservative Republicans on the OC GOP Central Committee.  He is supported by Mark Bucher's notorious Education Alliance.
I really have nothing against either of these Trustees, but we ought not celebrate the fact that they are running unopposed.  How does this compare to other Community College Districts in Orange County?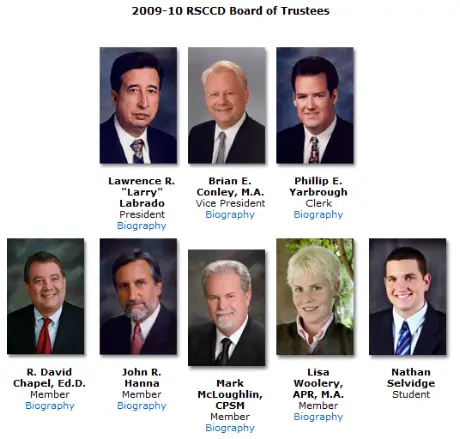 The ultimate insiders' club?
Jim Moreno drew an opponent in Area 1, at the Coast Community College District.  Walt Howald also drew an opponent, the same District, in Area 5.
Barbara Dunsheath drew an opponent over in Area 2, in the North Community College District.  Jeffrey Brown did as well, in the same District, in Area 3.  And Donna Miller also drew an opponent, in Area 4.
In the South Community College District, two challengers filed for an open seat in Area 2.  Nancy Padberg drew an opponent in Area 4, as did Marcia Milchiker in Area 5.
The only Community College District that failed to attract any challengers was, you guessed it, the RSCCD.
Hanna pointed out, on his Facebook page, that the District saved $400,000 because there were no challengers.  Who can argue with that?  That said, we should not celebrate when our democracy fails.  And failing to challenge opponents is indeed a massive failure of our system.
Why did no one challenge the incumbents?  For one thing, it costs a fortune to buy a candidate's statement.  For many possible challengers, that is a deciding factor.  That is not the only barrier to entry.  The voting in the RSCCD elections is at-large.  This definitely discourages minority candidates.  It is why a number of Latino and Asian candidates in 2008 had no chance of winning.
I urge the RSCCD Trustees to reverse this trend by switching to Area-specific elections.  That would increase the potential of electing candidates who are minorities.  And something clearly needs to be done about the ridiculous candidate statement fees.  See the graphic atop this post.  It literally can cost as much as $6,500 to buy a candidate's statement when you run for a community college district's Board of Trustees.  How many of us have that kind of money lying around?
Why doesn't the Orange County Registrar of Voters create an alternative Candidate Statement distribution source – which could be done at almost no cost?  What they could do is set up an online-only statement, for those who cannot afford to buy one in the ballot pamphlet that is mailed to the voters?  They already archive the statements online, and make them available to voters.  Why not let all the candidates put their statements up online?
I am happy for Hanna, but I am not happy that the voters in the RSCCD will have no choice in who their Trustees will be, come November.  That simply isn't how our system of democracy is supposed to work.