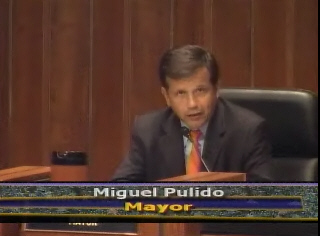 "Santa Ana Mayor Miguel Pulido said Monday he opposed allowing a controversial downtown property tax to continue, the mayor's first declaration on the issue since he was given the OK by the city attorney to vote on the tax district," according to the Voice of OC.
Even worse for the corrupt PBID crew at Downtown, Inc., Pulido is now part of a 4-2 Council majority that opposes the PBID.  The only PBID supporters that I am aware of are Council Members David Benavides and his longtime pal Carlos Bustamante.  Mayor Pro Tem Claudia Alvarez has been a solid leader against the PBID for some time, as has been Council Member Sal Tinajero.  Council Members Michele Martinez can't vote on the PBID, as I understand it.  But if they could I think that if she could she would support it.
I guess Council Member Vince Sarmiento is part of the anti-PBID coalition too.  Good for him.  The last thing he needs to do is become even more unpopular, after barely beating the unknown and unfunded candidate Estela Amezcua in November.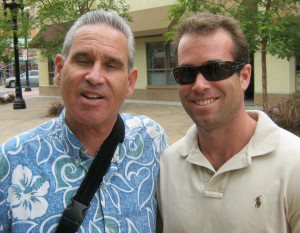 I am glad that Pulido is standing up for those who have been ripped off by the PBID tax for so long.  And this is a great way for Pulido to get back at the PBID crew that paid for those awful campaign mailers that went after his kids.  Imagine how mortified the Chase family is now?  The PBID is dead and both Pulido and Alvarez won on Nov. 6.  The money the Chase family blew on their hateful anti-Pulido attacks was utterly wasted.
The other irony I am savoring is that the so-called Benavides Council majority has already been shredded – and the new Council Members haven't even been sworn in yet.  I said it awhile ago – and it has come true.  Benavides is now seated at the little kids' table and the adults are running the City Council.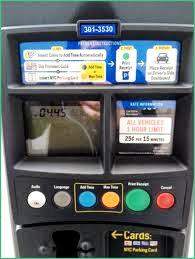 Now lest you accuse me of being overly negative I do have an idea to replace the lost PBID loot.  It is simple really.  The City of Santa Ana should install new digital parking meters in Downtown Santa Ana and start charging folks for parking at all hours.  The debauched patrons of the Downtown bars can swipe their credit cards and contribute to our local city budget.  This would only be fair as currently these folks get free parking – although families that shop in Downtown Santa Ana have to pay to park during the day.
And if the City of Santa Ana really wants to make some money they should set up DUI checkpoints in Downtown Santa Ana, right by all the bars, every Friday and Saturday night.  Those tickets could be quite a revenue source!
And how about installing port a potties with digital meters so the Downtown drunks can pee where they should, and pay for it, rather than peeing, and vomiting, on our city sidewalks?  Cha-ching!  You see – we don't need a PBID tax after all.
Now that Pulido has taken a firm position against the PBID tax, isn't it about time for Benavides supporter Dr. Art Lomeli to apologize for his awful attacks against Pulido this year?  And shouldn't Lomeli be a bit peeved that his amigo Benavides continues to support the PBID tax?  Sigh.  Some things never change in this town.