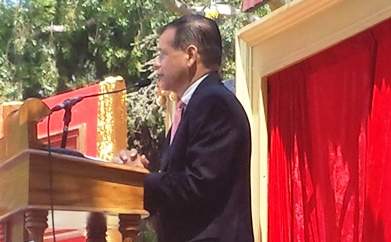 Santa Ana Mayor Miguel Pulido has received at least $25,000 in contributions toward a legal defense fund that he established in January as he is being investigated by the state's political watchdog agency, according to the OC Register.
The "Miguel Pulido Legal Defense Fund" was set up in January, shortly after City Attorney Sonia Carvalho began investigating a real estate swap involving Pulido that ethics experts say looks like a bribe and could have violated state conflict of interest laws, according to the Voice of OC.
My sources tell he that a few of the Santa Ana Council Members may want to set up legal defense funds of their own.  One pajarito in particular told me last week that the FBI is looking at conflict of interest by the Council Members with regard to real estate development on Bristol and Seventeenth and at the property formerly known as the Honer Plaza which is now called the Bristol Marketplace.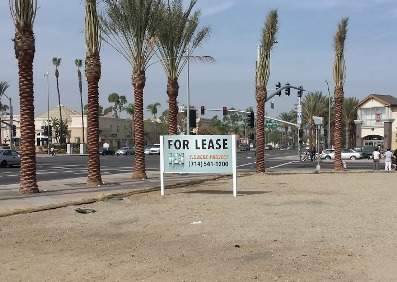 Do you remember when we reported about a vacant lot on the corner of Bristol and Seventeenth that was acquired by the Rancho Santiago Community College District (see the picture above)?  They plan to use the lot, which used to be a dental office, for teacher parking.  But my insider said that a developer was tipped off that the College District was interested and they bought the land and flipped it to the College District, at a profit of over a million dollars.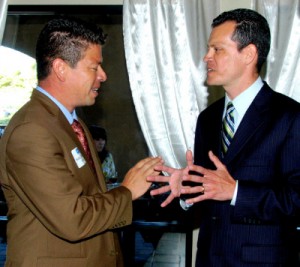 The allegation is that the developer was tipped off by Santa Ana Council Members that may have included both Pulido and Councilman David Benavides and that RSCCD Trustee Jose Solorio may have been in the mix as well.
Something similar happened a few years ago when a developer snagged a property that the Santa Ana Unified School District wanted to develop into a school.  The SAUSD was forced to pay a lot more for the property and the allegation back then was that Pulido and perhaps some of the SAUSD Trustees had tipped off the developer.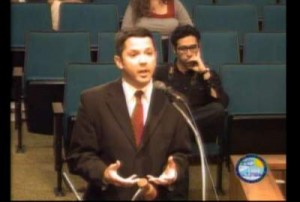 Benavides by the way made a big stink about transparency when he challenged Pulido in 2012 but the Planning Commissioner he appointed after that, Phil Bacerra, is the only Planning Commissioner who is refusing to fill out disclosure forms when he talks to stakeholders about projects before the Planning Commission.
I am also told that the parking lot that got Pulido in trouble when his family sold it to a local Auto Parts store in trade for a home they then flipped for a ton of money was previously rented out to the two company contracted by the City of Santa Ana, and apparently that too is under investigation.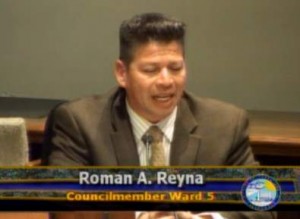 Pulido is facing another mayoral challenger this fall in the form of Councilman Roman Reyna, who has been spending a lot of time focusing on Parks and Recreation – probably because his only jobs prior to gaining a seat on the Council were at the city's Parks and Recreation Agency; the local YMCA and the local Boys and Girls Club.  That is all Reyna knows and he thinks he is fit to be the mayor of one of Orange County's largest cities?
Unless Pulido's detractors can come up with a worthier opponent than Reyna they are unlikely to unseat him in November – but there is no telling what could happen if he ends up facing charges of misconduct stemming from his development deals and "finders fees."
Benavides is up for re-election in November too but so far no one has stepped up to oppose him.  His colleagues Sal Tinajero and Michele Martinez are also up for re-election.  So far only Martinez is facing an opponent.  Both tinajero and Martinez have had past run-ins with campaign finance laws as well.
It is dismaying that the Council voted unanimously at their last Council meeting to put a measure on the November ballot that will give them a pay raise.  They are also going to ask us to consider raising our cell phone taxes.  But they won't let us vote for ward-specific City Council elections, which is what we really need in this town to get rid of the power of the special interests.