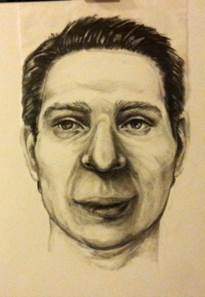 NEWS, FOR IMMEDIATE RELEASE
Contacts: Lt. Jeff Hallock, 714.904.7042, JHallock@ocsd.org; Emily Osterberg, 714.647.1840, EOsterberg@ocsd.org
Investigators Seeking Public's Assistance Identifying John Doe
SANTA ANA, Calif. (February 19, 2015) – Investigators have recently compiled the sketch of a John Doe missing since Tuesday, December 24, 2013.  Investigators have determined the person had been deceased for as long as several weeks prior to discovery.
At that time, the body of a male was found floating approximately one mile off of the Newport Beach Coastline in the Crystal Cove area. The victim may have suffered unknown head trauma and had been weighted down with a 35lb iron dumbbell. The subject was wearing a dark colored 'Champion' nylon sweatpants with zippered legs, size 11 black 'Asics' tennis shoes and a black 'Timex' watch with a black plastic band. While his age is unknown, it is believed he is older than 30 and as old as 50, height of 5'8"-5'9", approximately 165 lbs with dark hair.
Anyone with additional information is asked to call the Orange County Sheriff's Department at (714) 647-7000 or (714) 647-7044. Anonymous tips may also be submitted to Orange County Crime Stoppers at 855-TIP-OCCS (855-847-6227) or at occrimestoppers.org.
NOTE: The above sketch is a composite image and not an actual photo depicting the suspect.
# # #