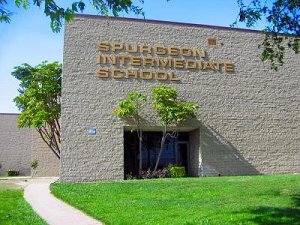 The Santa Ana School Police Department has reported that shots were heard at around 3 pm by Spurgeon Intermediate School and it was placed on lock down temporarily as a precautionary measure.
The School Police and the SAPD responded to the area of 5th and Fairview in reference to the shots that were reported.  
The police officers made contact with a male juvenile who said that he was walking south on Fairview when he was approached by two male juvenile suspects.  During the ensuing fight, two shots were heard in the rea which caused a crowd that had gathered to watch the fight to disperse immediately.
The victim did not sustain any injuries.  The suspects fled on foot in an unknown direction.