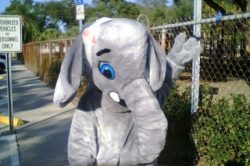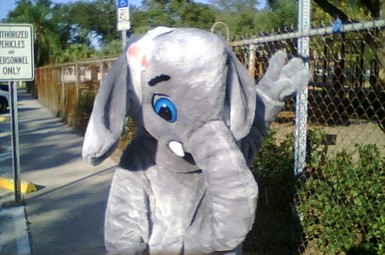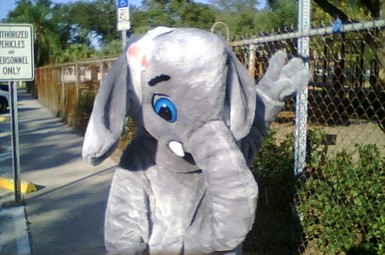 A bunch of PETA activists showed up at Santa Ana Mayor Miguel Pulido's house on Monday, to protest the fact that elephant rides are sometimes offered at the Santa Ana Zoo.
I am told that a lot of SAPD units were on the scene, at Pulido's Floral Park home.
Here is PETA's latest press release regarding their long campaign against elephant rides at the Santa Ana Zoo:
The Santa Ana Zoo's Rides Expose Children to Possible Injury and Illness, Says Group
For Immediate Release:
March 30, 2011
Contact:
David Perle 202-483-7382
Orange County, Calf. — In light of a recent report documenting the high prevalence of tuberculosis in captive elephants—and the disease's communicability to humans—PETA has sent an urgent letter to Santa Ana Mayor Miguel Pulido calling on him to suspend the zoo's elephant rides. In the letter, PETA points out that, in addition to the risk of disease transmission, elephants in captivity sometimes rampage and injure or even kill their trainers and members of the public.
"Allowing children to ride elephants at the Santa Ana Zoo puts them at grave risk for injury and illness," says PETA Executive Vice President Tracy Reiman. "Elephant rides are dangerous to humans and cruel to the animals who are beaten into submission, and it's time for Mayor Pulido to protect Santa Ana's residents by putting an end to these potentially deadly rides once and for all."
PETA's letter to Santa Ana Mayor Miguel Pulido follows. For more information, please visitPETA.org.
March 30, 2011
Dear Mayor Pulido,
We are writing to inform you of important information about tuberculosis (TB) in captive elephants—something that may pose a very real risk to visitors to the Santa Ana Zoo.
Since the mid-1990s, scientists have been tracking TB in captive elephants, who can carry a strain of TB that is highly transmissible to humans. A 2005 elephant TB research workshop organized by experts in the field documented that TB "emerged" as a disease of concern for elephants in 1996 when two privately owned traveling elephants died from the disease. Between 1994 and 2005, there were 34 confirmed cases of TB in elephants from 15 populations in eight different states in the U.S.
The Centers for Disease Control and Prevention has recently issued an updated report that has again documented the "high prevalence" of TB among captive elephants as well as the disease's communicability to humans.
The study was conducted at a protected reserve for elephants in Tennessee where one elephant had tested positive for TB. Nine staffers at the reserve tested positive for TB, including three administrative staff who had no direct contact with the TB-positive elephant. Even one of the researchers investigating the issue tested positive for the disease after spending a limited amount of time in an office near the barn where the elephant is housed.
Have Trunk Will Travel (HTWT), the outfit that provides the elephants for the rides at the Santa Ana Zoo, already has a proven record of putting animals and the public at risk. A baby elephant died last year from a painful herpes virus. In June 2001, an elephant leased to the Denver Zoo by HTWT rampaged, throwing her trainer against a wall, scattering crowds of zoogoers, and knocking over a mother and her baby, who was in a stroller. It took three hours to recapture the frightened animal. Elephants used by HTWT were wild-caught in Southeast Asia where baby elephants are routinely separated from their frantic mothers and beaten until their spirits are broken, and HTWT admits to chaining elephants for more than 12 hours a day at times.
Hauling elephants around from venue to venue, keeping them in chains, and denying them the freedom of movement that they need leaves elephants depressed, stressed, and susceptible to illness. There are approximately 270 captive Asian elephants in North America, with an estimated 12 percent infected with TB. However, because current testing methods are unreliable, that estimate is likely low.
Continuing to allow children to ride elephants puts them at risk for illness and injury. For their health and safety and for the well-being of the elephants, we ask that you take action to end the rides at the Santa Ana Zoo without delay. Thank you for your time.
Sincerely,
Tracy Reiman
Executive Vice President