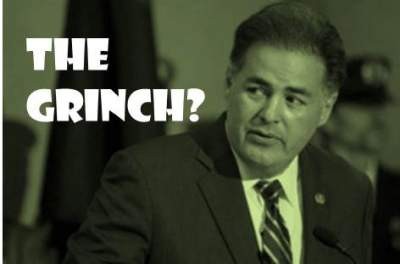 The City of Santa Ana is proposing raising the water and sewer rate by 3.2 percent a year until 2018, according to the O.C. Register.
The money is supposed to be used to pay for $24 million in debt financing for water capital improvement projects and $18.2 million for sewer improvements.
Fred Mousavipour, Santa Ana's executive director of public works, has admitted that "The last time the infrastructure was evaluated was 20 years ago."
Why did the City of Santa Ana ignore this mess for 20 years?
What happened to the millions of dollars the city took in during those 20 years and why was none of that money allocated for these repairs?
And how are we supposed to trust our overpaid City Manger David Cavazos?
Finally why did he announce these rate increases during Christmas week?  Couldn't the "Grinch" Cavazos wait until January to pop the bad news?
A public hearing for the proposed rate adjustment is tentatively scheduled for Feb. 17, 2015.
Santa Ana residents already pay the highest water, electricity and trash rates in Orange County.  And our residents have voted for every bond measure that has been put before them as well as the Utility Tax increase that Cavazos came up with on the November ballot.  So we pay the highest property taxes in Orange County as well.
And things could still get worse.  The Voice of OC is reporting that Cavazos absolutely screwed his previous employer, the City of Phoenix, with "horrendous" budget revenue estimates.  Remember that Cavazos tried to get a bonus this month for his work on our city's own budget revenue estimates!  hang on to your wallets!  Here are a few excerpts from the Voice of OC's article:
It can be argued that the Great Recession hit few cities harder than it did Phoenix. Home values fell by 55 percent, unemployment at one point topped 11 percent, and the city's general fund deficit hit $277 million.

But by the end of 2013, City Manager David Cavazos had convinced the majority of Phoenix City Council members that the city's budget woes were in its rear-view mirror. He said the tax base was growing at a rapid clip and projected more than 7 percent growth in general fund revenue for the 2013-2014 fiscal year.

Using this optimistic forecast, Cavazos put forward a plan to cut the city'scontroversial food tax in half at his last council meeting, Oct. 16, 2013. Phoenix council members approved the tax reduction, and they praised their outgoing city manager for his fiscal management and ingenuity.

However, by January a starkly different reality took city leaders by surprise – Phoenix was heading for a fiscal cliff. Cavazos' projections for revenue growth were way off the mark, with the increase ultimately coming in at only 4.6 percent. Council members hiked the water tax, raised city fees and slashed employee pay to close an estimated $37.7 million budget hole.

Yet they were never able to hold Cavazos accountable. Within days of the food tax cut's approval, he was on his way to California to be sworn in as Santa Ana's city manager, a hiring decision made at least in part because of his reputation as a budget wiz.

Now in charge of Santa Ana's $200-million general fund budget, Cavazos is again offering rosy revenue projections that are at odds with previous estimates by other experts.

Before Cavazos came to Santa Ana, the city's consulting firm, Management Partners, had determined the city would be facing a year-to-year budget deficit through fiscal year 2018-19 — and that was under even the best of three scenarios outlined in a 2013 report.

Yet, just after a year on the job, Cavazos produced a new forecast showing year-to-year surpluses of over $10 million annually, a figure he cited in his recent failed attempt to secure a $15,750 bonus on top of his more than $500,000 compensation package.

And like in Phoenix, a significant factor in Cavazos' surplus is revenue estimates that have been revised upward.
Click here to read the rest of the Voice of OC's article.