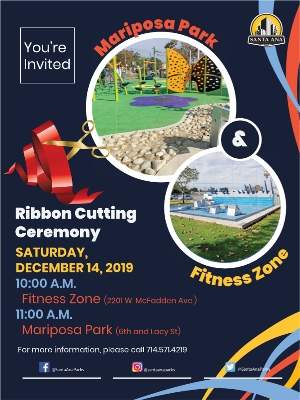 The City of Santa Ana is hosting the opening of a Fitness Court at Jerome Park and a ribbon cutting ceremony for Mariposa Park, a new park at the corner of 6th and Lacy streets, this Saturday, Dec. 14.
The City received five $30,000 grants to participate as a Model City in the 2019 National Fitness Campaign. Approval of the funding was based on the City of Santa Ana's commitment to free health and fitness options, development of stakeholder consensus, and the exceptional and active public spaces where we will launch our Fitness Courts and the NFC program. The Fitness Court is an outdoor bodyweight circuit training system that supports 28 simultaneous users on 30 separate pieces of equipment that are grouped into seven stations.
The 7 movement, 7 minute system provides a full-body workout to people of all ability levels. The integrated system includes a sports floor to simulate the indoor gym exercise, and the steel bodyweight training wall provides users with many exercise combinations. The first outdoor fitness court installation is at Jerome Park, which will be followed by courts at El Salvador Park, Delhi Park, Rosita Park and Memorial Park.
Mariposa Park is the city's new park at the corner of 6th and Lacy streets. The site was formerly three vacant homes, acquired by the City of Santa Ana, demolished and rezoned as open space to provide more outdoor recreation opportunities for the Lacy Neighborhood community.
The new park amenities include a playground, picnic area, benches, picnic tables, skateboarding element, bike racks, walkways, drinking fountains and areas with shade, rock bio swale, water wise landscaping.
Along with the functional amenities of the park, two large butterfly sculptures were installed with flowers planted on its wings that will change annually.
The public is invited to the fitness court opening at 10 a.m. Saturday and the ribbon-cutting ceremony and celebration for Mariposa Park at 11 a.m. The events are free and open to the public.
For more information, contact Community Service Supervisor Juan L. Lara at (714) 571-4259 or email JLara@santa-ana.org.
El Público Está Invitado a las Ceremonias de Inauguración de la Corte de Ejercicio en Parque Jerome y de Parque Mariposa
La Ciudad de Santa Ana va a tener las inauguraciones de la Corte de Ejercicio en el Parque Jerome y de Parque Mariposa, un parque nuevo en la esquina de las calles 6ta y Lacy, este sábado 14 de diciembre.
La Ciudad recibió cinco subvenciones de $30,000 para participar como Ciudad Modelo en la Campaña Nacional de Fitness 2019. La aprobación de los fondos se basó en el compromiso de la Ciudad de Santa Ana con las opciones gratuitas de salud y estado físico, el desarrollo del consenso de las partes interesadas y los espacios públicos excepcionales y activos donde lanzaremos nuestros cortes de ejercicios y el programa NFC. El Fitness Court es un sistema de entrenamiento de circuito de peso corporal al aire libre que admite 28 usuarios simultáneos en 30 equipos separados que se agrupan en siete estaciones.
El sistema de 7 movimientos y 7 minutos proporciona un entrenamiento de cuerpo completo para personas de todos los niveles de habilidad. El sistema integrado incluye un piso deportivo para simular el ejercicio en el gimnasio bajo techo, y la pared de acero para el entrenamiento del peso corporal ofrece a los usuarios muchas combinaciones de ejercicios. La primera instalación de cancha de fitness al aire libre es en Jerome Park, que será seguida por canchas en El Salvador Park, Delhi Park, Rosita Park y Memorial Park.
Mariposa Park es el nuevo parque de la ciudad en la esquina de las calles 6ta y Lacy. El sitio era anteriormente tres casas vacías, adquiridas por la Ciudad de Santa Ana, demolidas y rezonificadas como espacios abiertos para proporcionar más oportunidades de recreación al aire libre para la comunidad de Lacy Neighborhood.
El nuevo parque incluye una zona de juegos interactivos, áreas para picnics, elemento de patinaje, estacionamiento para bicicletas, pasarelas y fuentes de agua, y áreas con estructura para sombra, veredas de granito y paisajismo. Junto con las comodidades funcionales del parque, se instalaron dos grandes esculturas en forma de mariposa y sobre sus alas se han plantado flores intercambiables anualmente.
El público está invitado a la ceremonia de inauguración de la Corte de Ejercicios a las 10 a.m. y a la ceremonia de inauguración y la celebración del Parque Mariposa a las 11 a.m. Los eventos son gratuitos y abiertos al público.
Para obtener más información, comuníquese con Juan L. Lara, Supervisor de Servicios Comunitarios, al (714) 571-4259 o vía correo electrónico a JLara@santa-ana.org.