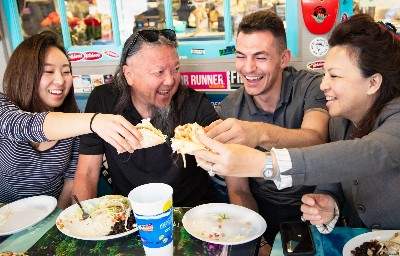 Tuesday Just Got Tastier with OCTA and Wahoo's
Agency joins with restaurant to encourage public transit ridership with Taco Transit Tuesdays
ORANGE – Add another 'T' to Taco Tuesday in Orange County – the third 'T' is for Transit.

Starting Tuesday, April 2, the Orange County Transportation Authority and Wahoo's Fish Taco is helping make Tuesdays more delicious, while making it easier to get around town, by introducing Taco Transit Tuesday.
"What's better than enjoying the affordability and ease of traveling on the OC Bus system? … Free tacos!" said OCTA Chairman Tim Shaw, also a La Habra Councilman.
On Taco Transit Tuesdays, transit riders can visit any participating Wahoo's restaurant in Southern California and show a valid OC Bus, OC Flex, or Metrolink pass, and get a free taco when purchasing a Wahoo's No. 1 Combo.
Taco Transit Tuesday encourages residents, workers and visitors to Orange County to leave the car at home and instead take public transit at least one day a week, saving money, reducing traffic congestion, and cutting air pollution in the process.
"We all need to do our part: Use less plastic straws and bags, recycle what we can and use public transportation when possible," said Wing Lam, co-founder of Wahoo's, which now has more than 25 Southern California locations.
OCTA operates more than 500 buses in the OC Bus system, helping people get to their destinations across Orange County for $2 per ride or $5 per day.
OCTA recently introduced OC Flex, an on-demand microtransit system, that is currently in a pilot program in two zones – one in Huntington Beach and Westminster, and the other in parts of Laguna Niguel, Aliso Viejo and Mission Viejo. (Visit www.ocflex.com for more information on that program.)
Other transit options include Metrolink commuter rail. Metrolink's Orange Line, which runs through Orange County between Oceanside and Los Angeles, is celebrating 25 years of service this year, and now has ridership topping 10,000 boardings per day.
Wahoo's restaurants, founded in 1988 in Orange County, has become a Southern California staple – and expanded well beyond. (To check out the Wahoo's menu, visit www.wahoos.com.)
For more information on how to turn convenient public transit into free tacos, visit www.TacoTransitTuesday.com.
About OCTA: The Orange County Transportation Authority is responsible for planning, funding and implementing transit and capital projects serving 34 cities and 3.1 million residents. With the mission of keeping Orange County moving, this includes freeways and express lanes, bus and rail transit, rideshare, commuter rail and active transportation.