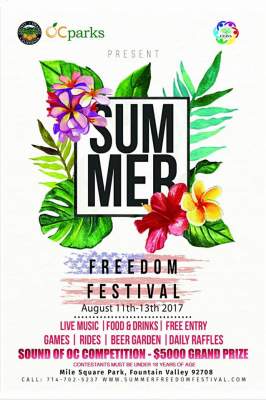 The County of Orange and OC Parks proudly present "The Summer Freedom Festival" at Mile Square Park, at 16801 Euclid St, Fountain Valley, on a 3 day weekend, August 11th, 12th & 13th, 2017.
Please come join us for food & drinks, daily raffles, carnival rides, a beer garden, and live entertainment, featuring the "Sound of OC Music Competition." Entrance to the Summer Freedom Festival is FREE, so bring your Family and Friends to Mile Square Park and enjoy summer with us!
Mariachi Zacatecas will be performing from 2 p.m. to 4 p.m. Free to the public!
Click here to enter the Sound of OC Music Competition.
Learn more @ www.summerfreedomfestival.com.