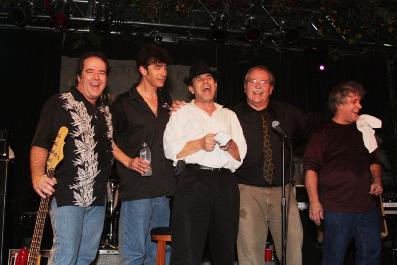 Fresh off his "Entertainer of the Year" win at the recent 20th Annual Los Angeles Music Awards, Orange County-based bluesman Papa J announces the Real Blues Festival of Orange County "2," set to take place Sunday, Jan. 15, from 8:30 am to 11:30 am.
The enigmatic harpist-vocalist is presently in the studio recording the follow-up to the band's Gotta Keep Movin' CD, with a February targeted release date. Come hear some of the new tunes at the Olde Ship British Pub, 1120 W. 17th St., Santa Ana, this Saturday, January 15. No cover. Info: (714) 550-6700. Music starts at 9 p.m. and lasts till 1 a.m.
Papa J (real name: Jeffrey Hudson) received his plaque and walked the L.A. Music Awards' Red Carpet in November at Paramount Studios in Hollywood with famed record producer Eddie Kramer, musicians Tommy Shaw (Styx), Jack Blades (Night Ranger) and other luminaries from the entertainment world. Prior to that, the Garden Grove-based musician organized, promoted, and performed at the first "Real Blues Festival Of Orange County" in October, which featured a solid lineup of some of Southern California's best blues acts. In between there was great national and regional exposure tor the ageless musician in publications including USA TODAY, OC REGISTER, LA TIMES, OC WEEKLY, and AMERICAN BLUES NEWS, to name a few.
"Coming up on sixty years of age, PJ still bounces on stage every night with the energy of a guy half his age," writes Casey Reagan of AMERICAN BLUES NEWS. "A showman by nature and musician by instinct, Papa J's stage presence and energy is undeniably huge to anyone who's seen him perform. From his contagious smile to his gut wrenching blues, he puts a thousand percent into making every performance mean something special to every person watching and it sure works on me," concludes Reagan.
www.bluesgonesouth.com www.myspace.com/bluesgonesouth