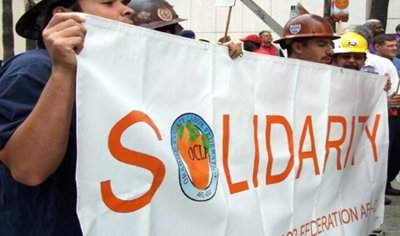 Join the Orange County Labor Federation to celebrate Labor Day, on Monday, Sep. 7, 2015, at 10 am. They will be honoring their Labor Warriors with the unveiling of a Workers Memorial Monument at the Orange County Fairgrounds, located at 88 Fair Drive in Costa Mesa.
The Orange County Labor Federation represents more than ninety local unions from every sector of the labor movement with a membership of more than 200,000 working men and women. Click here to see the list of their affiliated unions.
Chartered in 1929 by the AFL-CIO, the Federation is the official regional body that brings together unions from different sectors to fight for descent wages, safe working environments, strong communities and upward mobility.
About the "Table of Dignity:"
Throughout the County's history, agriculture has been the centerpiece of its early growth and development. That legacy is celebrated each year with a traditional County Fair. And yet there has never been any recognition of those pioneers who helped to build the County literally with their own two hands—Orange County farm workers.
The monument also commemorates a dark time in our County's history when working men and women paid dearly when standing up for their rights. The 1936 Citrus Strike in the orange groves of Anaheim saw citrus workers beaten, jailed and deported only because they asked for better wages and decent working conditions.