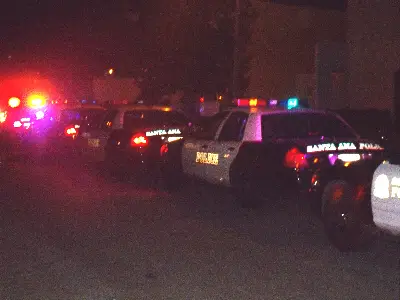 Santa Ana's police officers are not among the highest paid cops in Orange County, according to a new study commissioned by The Association of California Cities of Orange County.
The Orange County Sheriff's Department, which provides service to a dozen cities as well as the unincorporated areas of the county, came in number two on a list ranking O.C.'s police departments — in order of total compensation, according to the O.C. Register.  The top base monthly salary for sheriff's deputies was $7,308, with total comp of $13,968.
The top base monthly salary for Santa Ana's cops is $7,039 per month and their total compensation comes to $12,348.
There is however a catch.  When you figure out the cost that we pay for police officers per capita, it turns out that those who are served by the O.C. Sheriff's Department only pay two cents per month.  Here in Santa Ana, we are paying a comparably low three cents per month.  Just south of us the people of Costa Mesa are paying thirteen cents per month, per capita, for their police force.
I have heard a lot of complaints of late from Santa Ana Council Members and from members of the service employees union that represents city workers about how the SAPD has not done its share to cut the city's budget.  But this new report does put those complaints in a new light.  Apparently we are getting a pretty good deal when it comes to our local police officers.