A new charter school, Unity Middle College High School, is set to open this Fall. Spaces are filling fast! They only have room for 100 9th grade students.
The address is 671 North Poplar Street, in Orange. If you are interested, please pick up your enrollment packet at their mobile office at their site. They are open Monday – Friday from 9 am – 4 pm. Click here for more info.
Erin Craig, Ed.D. is their Founding Executive Director. She has over 12 years of experience in charter teaching, leading, and operating schools. She is the founder of E=MC2 Consulting, LLC. She specializes in K-12 charter schools, instructional leadership, middle and early colleges, innovative school reform, blended learning, and dual enrollment. Dr. Craig has redesigned the developmental math department at Golden West College and instructs a doctoral-level K-12 school finance course at USC's Rossier School of Education.
The Unity High School in Oakland has an Academic Performance Index that has risen steadily and is at 735 for 2013 (the last year an API score was available from the California Department of Education). The school has a ranking of 9 out of 10 among similar schools in California.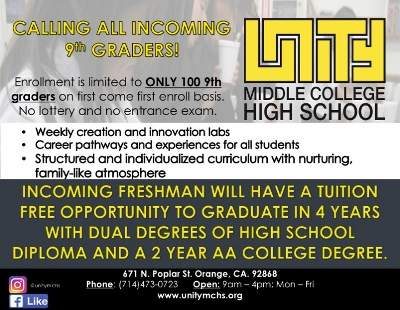 Unity MCHS utilizes 4 running strands of language arts instruction. The four strands are as follows: reading instruction, writing instruction, vocabulary development, and grammar development—all aligned with Common Core standards. Underlying these strands is explicit instruction in using technology to enhance and demonstrate understanding of the four strands. Curricular resources will include novels, plays, poetry, and nonfiction texts selected by the instructor to be culturally relevant and academically appropriate. The English Language Arts department will work collaboratively with the Social Studies department to select texts that will supplement and support the students' understandings of various historical time periods and perspectives. Writing instruction will follow the model created and used by Oakland Unity High School teachers over the past 10 years.
College coursework and curriculum are designed to meet the academic level, interest, and career pathway for each individual student. Students will be identified for potential college courses each semester by examining academic grades, attendance, and family input. According to Adelman, the single most important factor in determining college success is the academic challenge of the high school courses a student takes. A student who acquires at least 12 college credits prior to high school graduation has the highest likelihood of graduating from a post-secondary institution within four years (Adelman, 2006).
Career Pathway electives will be offered each semester through high school and/or college courses to increase access to applications of content in a future career interest area. Sample career pathway courses include (but are not limited to):
STEM
Business
Biomedical and Health Science
Arts, Media and Entertainment