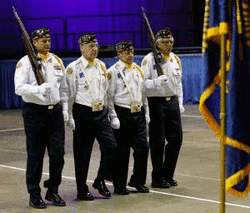 City of Santa Ana
Community: PUBLIC INVITED AS AMERICAN LEGION POST 131 HONOR US VETERANS WITH MONTHLY FLAG RAISING
SANTA ANA, CA (November 17, 2014) – In honor of the remarkable contributions that veterans have made to our country, the American Legion Post 131 will be hosting a monthly flag raising ceremony that will allow community members to show admiration, respect, and appreciation to our troops. Similar ceremonies take place every Wednesday afternoon at the Orange Circle in the City of Orange and have become extremely successful over the years, gathering more than 100 community members every week.
The ceremonies will take place on the third Thursday of each month, and will begin at 7:30 am and will last approximately 25-30 minutes. At every ceremony, there will be two veterans that will be honored and recognized.
The first flag raising ceremony will take place this November 20, 2014 at 7:30 am in front of the Santa Ana library, at the flag pole located near the corner of Ross and Civic Center Drive. Everyone is invited to attend and recognize our local veterans.
###