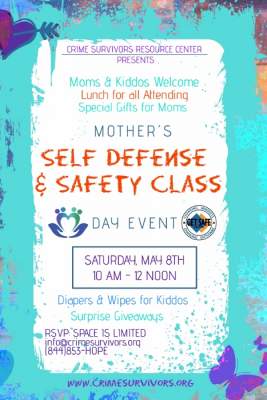 An untraditional Mother's Day for moms and their kids, who are crime survivors is just one week away. The Crime Survivors Resource Center and its' founder Patricia Wenskunas are hosting a special celebration with help from Get Safe to teach a self-defense and safety training class on Saturday, May 8, from 10 am to 12 noon.
The event includes a lunch and fun give-away. Diapers and wipes will be available for the kids. There will also be surprise giveaways.
Space is limited. To RSVP or to help out Contact Crime Survivors at info@crimesurvivors.org or (844) 853-HOPE.