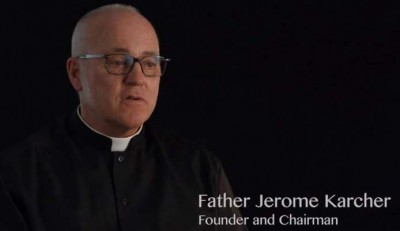 City of Santa Ana
Community Alert: MAYOR PULIDO RECOGNIZES MERCY HOUSE FOUNDER, FATHER JEROME KARCHER AND EXECUTIVE DIRECTOR, LARRY HAYNES
Mayor Miguel Pulido will recognize Father Jerome T. Karcher and Larry Haynes from Mercy House for their outstanding service to the City of Santa Ana at Tuesday's City Council Meeting
With its headquarters in Santa Ana, Mercy House provides housing and comprehensive supportive services for a variety of homeless populations which includes families, adult men and women, mothers and their children, persons living with HIV/AIDS, individuals overcoming substance addictions, and some who are physically and mentally disabled. This year, Mercy House served close to 5,000 homeless individuals in their emergency services programs and prevented or ended homelessness for over 800 individuals.
Ordained to the priesthood in 1983, Father Jerome T. Karcher first began reflecting seriously on the plight of the homeless in 1987 while he was Associate Pastor at Saint Norbert's Church in Orange. His first efforts were to organize a small group of friends to assist the homeless. As Associate Pastor at Saint Anne Catholic Church in Santa Ana, he became more aware of the needs of both homeless and immigrant populations. One experience concerning the needs of an immigrant young man who was living on the streets in an abandoned garage particularly moved him to respond to the local situation of homelessness. This decision inspired him to found Mercy House as a not-for-profit charitable corporation in 1988.
Larry Haynes joined Mercy House in May of 1990 as its original employee, and continues to serve as the organization's executive director. He is also an adjunct sociology professor at Vanguard University where he teaches on poverty and homeless issues. Larry is one of the co-authors of Orange County's 10 Year Plan to End Homelessness and currently serves on the Orange County's Commission to End Homelessness Board of Directors as well as is Chair of the Commission's Prevention and Outreach Implementation Group. He is Chairman of the local Emergency Food and Shelter Program and the Costa Mesa Partnership to End Homelessness as well as a member of Cal State Fullerton's Community Advisory Board on Homeless Issues.
Please join the Mayor and City Council in recognizing Father Jerome and Larry Haynes for their outstanding work in our community by attending Tuesday's City Council Meeting or visit http://www.santa-ana.org/coc/granicus.asp to see it streamed live on the web.
The Council Meeting will be held on Tuesday, Dec. 1st at 5:45 p.m. in the Council Chambers, located at 22 Civic Center Plaza, Santa Ana. A map with parking information is available at: www.santa-ana.org/CivicCenterMap.
###