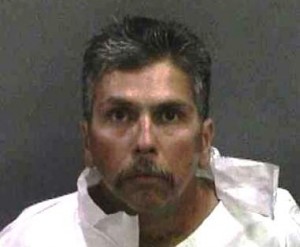 Earlier in the day the SAPD and the Coroner identified the 50-year-old man who was killed by a 20-year-old on Nov. 24, with a blow to the head by a skateboard, as Orzo Lee. Now we know that Lee had a lengthy criminal record, according to the O.C. Register.
Lee was first convicted of a felony in Orange County back in January of 1997.  He plead guilty to trying to possess a controlled substance.  Lee was also convicted of felony theft with a prior conviction back in 2000.
In 2011, Lee did something even worse. He broke into a home in Stanton and exposed himself to a grandmother and her two young granddaughters.  He was convicted and sentenced to four years in prison. And he was forced to register as a sex offender.
In 2014, Lee was back at it again, violating his parole and ending up in prison again for two months.
Lee has been convicted of several additional misdemeanors since his release, including assault, disturbing the peace and public intoxication.
Lee was once again disturbing the peace when he acted up at a Santa Ana Starbucks at 3345 South Bristol St.. on Nov. 24. That is when he harassed the 20-year-old, who defended himself with is skateboard.
The OCDA is waiting to see the final autopsy results before they decide whether to file charges. Now that we know that Lee was a total scumbag it is obvious that the 20-year-old should not face any charges.