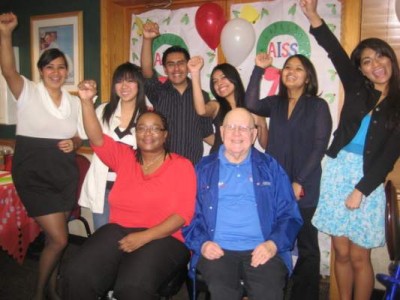 City of Santa Ana
Community Alert: MAYOR PULIDO HONORS PAUL RIORDAN, FOUNDER AND PRESIDENT OF THE ACHIEVEMENT INSTITUTE OF SCIENTIFIC STUDIES
Mayor Miguel Pulido will present Paul Riordan, Founder and President of the Achievement Institute of Scientific Studies (AISS), with the Exceptional Citizen Award for his outstanding service to the City of Santa Ana at Tuesday's City Council Meeting
A retired Santa Ana Unified School District educator and administrator, Paul Riordan taught chemistry and math at Santa Ana High School for 38 years. With a strong dedication to education and our community's youth, he founded the AISS program in 2001. AISS provides academically gifted high school students who are economically disadvantaged an opportunity and incentive to intensify their studies in science, technology, engineering, and mathematics (STEM).
The first AISS pilot program consisted of six sophomore girls from Santa Ana High School. These students participated in 120 academic seminar hours in industry workshops involving digital imaging, laser medicine, computer-aided design, optics manufacturing and engineering research. At the completion of the program, the students were accepted into universities such as UC Los Angeles, UC Irvine, Columbia, Chapman and Yale.
The program methodology of applying exposure to industry, coupled with finance support and college enrollment guidance has generated over 600 college acceptance letters to over 90 colleges and universities for program participants. The two year after-school and summer program accepts approximately 20 new students for each graduating class. Students with a GPA of 3.5 or higher who are recommended by their math and/or science teacher are considered. To learn more about AISS call (714) 544-1316 or go to www.aissfoundation.com.
Please join the Mayor and City Council in recognizing Paul Riordan, an outstanding local community leader, by attending Tuesday's City Council Meeting or visit http://www.santa-ana.org/coc/granicus.asp to see it streamed live on the web.
The Council Meeting will be held on Tuesday, September 1st at 5:45 p.m. in the Council Chambers, located at 22 Civic Center Plaza, Santa Ana. A map with parking information is available at: www.santa-ana.org/CivicCenterMap.
###