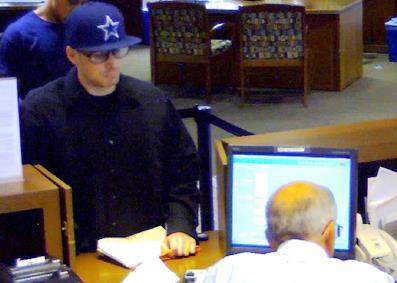 A man who likes to wear sports team caps has robbed two local banks in the Cities of Orange and Santa Ana in the past week, according to the O.C. Register.
The man robbed a Farmers and Merchants bank at 1220 E. Katella Ave. this Tuesday at around 4 p.m.  The Orange Police responded to that crime scene.
The man is reported to be between 25 and 30 years old.  He stands about 5′ 11″ and weighs about 150 pounds.  He walked into the bank wearing black sweater, blue jeans and a black Miami Heat sports cap with an orange bill, according to the Orange Police.
Orange police officials responded to the first robbery around 4 p.m. Tuesday at the Farmers & Merchants Bank, 1220 E. Katella Ave.
The suspect gave a note to the bank teller demanding "100s and 50s," according to the FBI.  He left that bank on foot with an undisclosed amount of cash.  No vehicle was seen.
Two days later, on Thursday, the same man is accused of giving a note to a bank teller, at around 3:40 pm, at the Bank of the West branch located at 3991 South Bristol St., in Santa Ana.
This time the man was wearing dark-rimmed eyeglasses, a black t-shirt and a blue Dallas Cowboys sports cap.
He handed a note to the bank teller indicating that he was robbing the bank and he had a gun. He requested no dye packs.
The teller gave the robber an undisclosed amount of cash that he stuffed in a canvas pouch before he ran off on foot.
The FBI has determined that the same man robbed both banks, after reviewing surveillance footage at both banks.
FBI investigators examined surveillance footage at both banks and suspect the same man is responsible for both robberies, Eimiller said.
If you know this man you can report him to Orange County Crime Stoppers at 1-855-TIP-OCCS. Tips can be made anonymously and online at occrimestoppers.org. Information leading to the arrest and conviction of a criminal can result in a $1,000 reward.