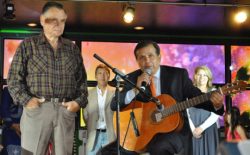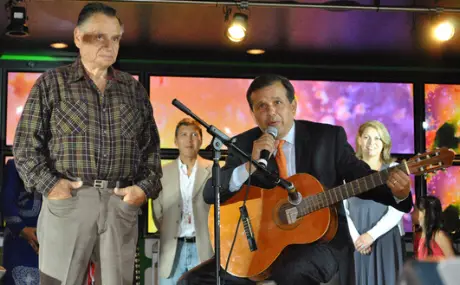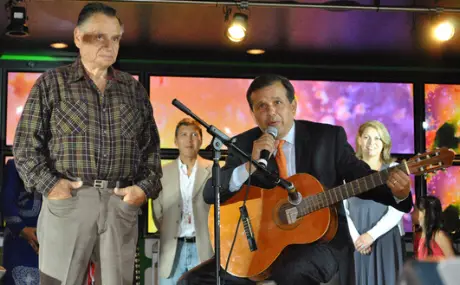 Picture courtesy of O.C. Excelsior
It isn't often that we learn something new about our elected officials, but I did learn something about our Mayor here in Santa Ana, Miguel Pulido, when I found a post about how he played the guitar and sang with his father at the recent Fiestas Patrias event.
I am not sure what the song was that they sang, but I am told by folks who were there that it was very moving.
They performed together during the El Grito portion of the event.
The Grito de Dolores ("Cry of Dolores") was the battle cry of the Mexican War of Independence also known as El Grito de la Independencia ("Cry of Independence"), uttered on September 16, 1810 by Miguel Hidalgo y Costilla, a Roman Catholic priest from the small town of Dolores, near Guanajuato.
Hidalgo and several criollos were involved in a planned revolt against the Spanish colonial government, and the plotters were betrayed. Fearing his arrest, Hidalgo commanded his brother Mauricio, as well as Ignacio Allende and Mariano Abasolo to go with a number of other armed men to make the sheriff release the pro-independence inmates there on the night of 15 September.
They managed to set eighty free.  Around 6:00 am September 16, 1810, Hidalgo ordered the church bells to be rung and gathered his congregation. Flanked by Allende and Juan Aldama, he addressed the people in front of his church, encouraging them to revolt:
My children: a new dispensation comes to us today. Will you receive it? Will you free yourselves? Will you recover the lands stolen by three hundred years ago from your forefathers by the hated Spaniards? We must act at once… Will you defend your religion and your rights as true patriots? Long live our Lady of Guadalupe! Death to bad government! Death to the gachupines!
Hidalgo's Grito did not condemn the notion of monarchy or criticize the current social order in detail,but his opposition to the events in Spain and the current viceregal government was clearly expressed in his reference to bad government. The Grito also emphasized loyalty to the Catholic religion, a sentiment with which both Creoles and Peninsulares (native Spaniards) could sympathize; however, the strong anti-Spanish cry of "Death to the Gachupines" (Gachupines was a nickname given to Peninsulares) probably had caused horror among Mexico's elite.
The Battle of Guanajuato, the first major engagement of the insurgency, occurred 4 days later. Mexico's independence would not be effectively declared from Spain in the Declaration of Independence of the Mexican Empire until September 27, 1821, after a decade of war.
Hidalgo was eventually betrayed and executed, but the movement he began did result in Mexican independence, a decade later.
Mayor Pulido and his father both were born in Mexico.  They still have family in the home country.  Clearly they have not lost their connection with their homeland.