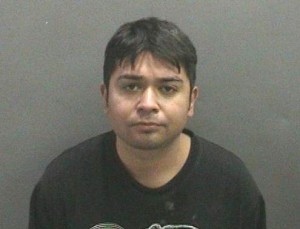 ORANGE COUNTY DISTRICT ATTORNEY PRESS RELEASE
Case # 15CF0911
Date: May 4, 2015
MAN TO BE ARRAIGNED ON CHARGES OF FORCIBLY RAPING AND STABBING VICTIM IN HER HOME WHILE THEIR TWO CHILDREN SLEPT NEARBY
SANTA ANA – A man will be arraigned today on charges of forcibly raping and stabbing a female victim in her home while their two young children slept nearby. Luis Javier Cervantes, 24, Santa Ana, is charged with one felony count of forcible rape, one felony count of aggravated assault, and a sentencing enhancement allegation for raping the victim during the commission of a burglary. If convicted on all counts, he faces a maximum sentence of 29 years to life in state prison. Cervantes is in custody on $1 million bail and is scheduled for an arraignment today, Monday, May 4, 2015, at 1:30 p.m. in Department CJ-1, Central Jail, Santa Ana.
In the late evening hours on April 28, 2015, Cervantes is accused of entering the home of the victim, whom he previously had a romantic relationship with. Jane Doe had left her home with their 7-year-old and 6-year-old sons during that time. Cervantes is accused of hiding in the bathroom.
After midnight on April 29, 2015, the victim returned home and put their two children to bed before heading to the bathroom to get ready for bed. Cervantes, who was still hiding in the bathroom, is accused of immediately making her undress. He is accused of then forcibly removing her clothes and forcibly raping Jane Doe and then stabbing her three times in the head.
Shortly thereafter, Cervantes is accused of fleeing the scene in Jane Doe's vehicle. The victim managed to reach a phone and contacted the Santa Ana Police Department (SAPD), who investigated the case.
That same day at approximately 7:00 a.m., Jane Doe's vehicle was found in Anaheim.
On April 30, 2015, at approximately 6:45 p.m., SAPD officers located Cervantes in Fullerton and arrested him.
Deputy District Attorney Whitney Bokosky of the Sexual Assault Unit is prosecuting this case.
###
TONY RACKAUCKAS, District Attorney
Susan Kang Schroeder, Chief of Staff
Office: 714-347-8408
Cell: 714-292-2718