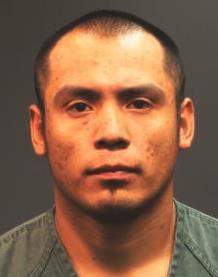 Santa Ana Police Department
Advisory: SAPD Detectives and US Marshals Arrest Suspect in Kidnapping, Domestic Violence, and Criminal Threats Case
On March 26, 2015, at approximately 8:45 PM, Santa Ana Police Detectives working in partnership with the U.S. Marshal's Pacific Southwest Fugitive Task Force, arrested Sergio Joaquin Mendoza, age 25, for kidnapping, domestic violence abuse, and making criminal threats. Mendoza is currently being held at the Orange County Jail. Bail has been set at $100,000.
On March 21, 2015, Mendoza and his girlfriend were living together in a rented room in his grandmother's house in Santa Ana. That day, Mendoza and the victim had an argument. Mendoza allegedly began assaulting the victim and prevented her from leaving the residence. He continued assaulting her throughout the day and carved his name on the victim's chest with a razor blade.
According to the victim, the suspect's grandmother and uncle told Mendoza to leave the residence after they became aware of the abuse, however the incident was not reported to the police. Mendoza then took the victim by force and held her against her will in his vehicle overnight. They stopped to sleep in various parking lots, where Mendoza continued to assault her.
On Monday (March 23, 2015), the victim fought off Mendoza and managed to escape from his vehicle while in the area of 5th St. and Harbor Blvd., in Santa Ana. At that time, a nearby business employee called 9-1-1. The victim who was bleeding and showed signs of abuse was transported to a local hospital for treatment.
Investigators assigned to the Family Crimes Section immediately began an investigation and developed possible leads as to the whereabouts of Mendoza.
With the assistance of the U.S. Marshal's, Mendoza was located, Thursday night, hiding in a relative's garage on Bewley St. in Santa Ana. Mendoza was taken into custody without incident.
The Santa Ana Police Department would like to remind the public that domestic violence should not be tolerated under any circumstances. Santa Ana residents who suspect domestic violence is occurring should immediately report the abuse by calling (714) 834-4211. If the violence is in progress they should call 9-1-1. For additional domestic violence resource information in your area, contact the National Domestic Violence Hotline at (800) 799-SAFE (7233).
###