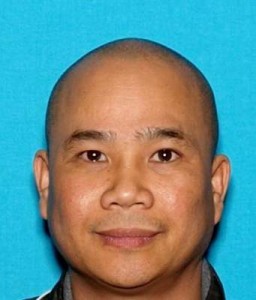 Santa Ana Police Department
Advisory: SAPD Detectives Conduct Fraud Investigation
Person Of Interest Buddhist Monk Dies Of Apparent Suicide
On March 1, 2015, at about 1115 hours, officers responded to the Tu Nghiem Temple at 5418 W. 4th street reference a group of approximately 30 people who were at the temple demanding money back from the head monk, Dao Nguyen, age 44. The members of the group alleged that Nguyen had defrauded them of thousands of dollars after he collected monies for a congregational trip to Vietnam that never occurred.
Detectives have identified 34 victims of the fraud. Each victim gave Nguyen between $1100 and $7700 as payment for airline tickets and travel expenses related to a trip to Vietnam which would have departed on March 2nd. Detectives estimate the total loss to be about $97,000. The group had planned to tour Buddhist Temples throughout the country.
On February 28, 2015, a suspicious fire broke out in the Nguyen's bedroom at the Temple. The Orange County Fire Authority responded to the fire, but it had been extinguished by another resident of the Temple prior to their arrival. Orange County Fire Authority investigators consider the fire suspicious but have not concluded their investigation. Nguyen claimed that the tickets and passport documents for the trip were destroyed in the fire.
Subsequent investigation revealed that no tickets were ever purchased. Nguyen claimed that he had paid an unidentified suspect in Vietnam to handle the group's logistics (lodging, transportation, meals) once they arrived in the country. An additional suspect in the United States was to handle the purchase of the airline tickets. This person allegedly delivered the tickets on February 28th, just hours before the fire. When the airline was contacted, it was determined no tickets had been sold in the names of the victims. Nguyen alleges that the tickets were counterfeit and that the money was stolen by this unidentified person who has not yet been located.
Today, at approximately 0915 hours, officers responded to the Temple and discovered that Nguyen had died from an apparent suicide.
The investigation into the fraud continues. Nguyen is a "person of interest" in the theft of the money but detectives have not discounted the possibility that additional persons might be involved. Detectives hope that a pending review of bank, email, and telephone records, as well as additional interviews with potential witnesses and victims will identify the perpetrator(s).
Anyone who has additional information is asked to contact Cpl. Shannon Rackley at (714) 245-8431.
###