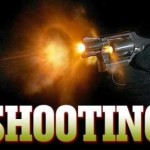 A 25-year-old unidentified man was on life support Wednesday, Nov. 9, after being shot while in a truck, according to the O.C. Register.
Authorities said the incident happened just before 1 a.m. in an alleyway behind apartments at the 800 block of South Townsend Street. After the man had been shot, he hit several parked cars with his truck and then crashed into a power pole, breaking it apart, according to ABC News.
The SAPD's investigators believe that the victim was shot in an alley not far from where his truck crashed. They are not yet sure if the vehicle was moving when he was shot.
The shooting had a serious outcome for the entire neighborhood as power was knocked out for at least two blocks – which affected about 140 residents.
Edison crews were able to repair the power pole and restore the power by about 6 p.m.
The police believe that the victim may have been a random target in a possible gang shooting. The incident took place in an area considered to be gang territory.
The truck was shot at least three times. The driver was hit by at least one of those bullets.
Apparently the victim was helping a friend to move into an apartment in the area.
As is usually the case the police don't have much to go on. There were no witnesses and as such there is no description of the suspect available.
The investigation is continuing.