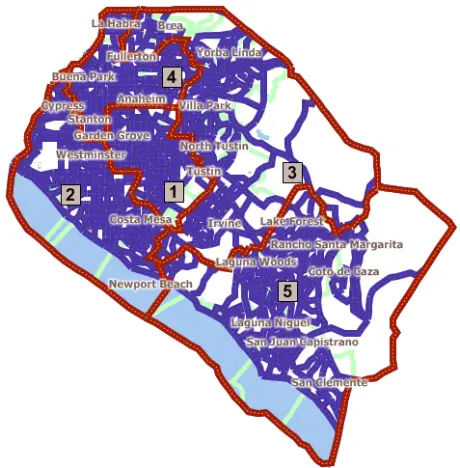 League of United Latin American Citizens, Santa Ana LULAC Council #147
Established: National – 1929 | Santa Ana – 1946
Orange County LULAC District #1
PO Box 1810, Santa Ana , CA 92702-1810
PRESS RELEASE: May 23, 2011

Local Civil Rights Groups to Submit Proposed Redistricting Plans to Orange County Redistricting Committee
Contact Persons: Zeke Hernandez, 714-661-4428 / zekeher@yahoo.com
Arturo Montez, 714-914-3154 / arturomontez@gmail.com
Santa Ana LULAC Council #147 (League of United Latin American Citizens) has submitted it's completed county supervisorial plans with appropriate population data to the Orange County Redistricting Committee by the May 18 deadline. The Santa Ana LULAC county plan (Plan #3) and data are included in this press release (see also attachment).
Santa Ana LULAC President Zeke Hernandez states, "There are well-over twenty plans being submitted by county supervisors, community groups and individuals. Board of Supervisors Chairman Bill Campbell announced at the May 17th board meeting that he himself is submitting four plans, including one suggested by former county supervisor Phil Anthony. We understand another county supervisor has submitted 10-12 plans through his/her appropriate office or through third party intermediaries. Other local elected officials may also be submitting their own plans."
Due to population changes following the decennial federal census count in 2010, Santa Ana LULAC has been able to draft two supervisorial districts (1 and 4) with over 50% minority population. These two districts have a community of interest – sharing common social and economic interests. The Santa Ana LULAC Plan #3 is affirmed to stand on its merits for the purpose of a community's fair and effective representation.
Hernandez added, "We have brought to the attention of the Board of Supervisors its concerns that the redistricting committee has not adopted a definitive process on how it will review submitted plans and how it will determine which plans will be recommended for adoption. The committee has acknowledged it may even re-draw a submitted plan by the public to be sent to the Board for approval. Committee members are comprised of staff aides to the supervisors and were appointed by them to act on their behalf. The committee recently revised its writing of the committee meetings, but continues to do its best to provide very little content, thus thwarting public knowledge through written commentary."
Santa Ana LULAC Public Policy Director Arturo Montez emphasizes, "We have drawn a plan that has ZERO concerns relating to incumbents, political parties and candidates. These plans were drawn, keeping in mind our strong adherence to the U.S. Voting Rights Act and the California Constitution. In addition, we have done our best to take into consideration the public's concern for transparency and reform in the redistricting process."
Montez continued, "Santa Ana LULAC feels its Plan #3 surpasses any other 20-23 plans that were submitted by the May 18th deadline. The question that now comes to the forefront: Will the Board of Supervisors recognize the dramatic demographic changes taking place in Orange County ? As proposed, District #1 has an 85% minority population, and District #4 has over 72% minority population. These are most likely the most heavily minority populated county districts in the nation."
The redistricting committee will hold its first of several public meetings on Thursday, May 26 (2 pm) to review and receive public comments on the submitted plans. This first meeting will be held at Orange County Hall of Administration – Board Hearing Room, 333 West Santa Ana Blvd., 10 Civic Center Plaza, Santa Ana.
Established in 1946, Santa Ana LULAC Council #147 is the oldest LULAC council in California and is an affiliate of Orange County LULAC District#1 and LULAC National – founded in 1929 with its national office in Washington , D.C.
The mission and objectives of the League of United Latin American Citizens (LULAC) is to advance the economic development, educational advancement, public policy outcomes, housing opportunities, health awareness, and general civil rights protection of Latinos in the United States and Puerto Rico through community-based programs and services through more than 700 local LULAC councils nationwide.
~~ end ~~