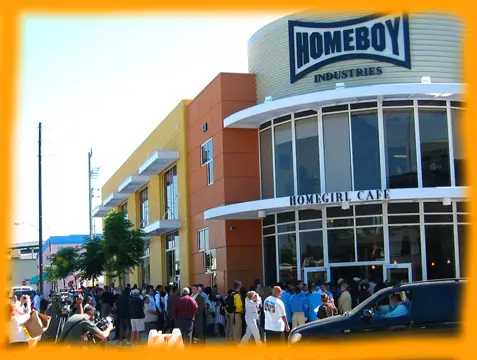 One of the issues that has long plagued our community is that of gang violence.  While the terrific men and women of the Santa Ana Police Department have done all they can to combat the issue the real answers lie not in law enforcement but rather in economic development and opportunity.  That is why I am suggesting that we reach out to Father Greg Boyle and bring Homeboy Industries to Santa Ana.
The motto used by Homeboy Industries is, "Nothing stops a bullet like a job".  I could not agree more.  With Santa Ana being the youngest city in the nation we really need to do all we can to bring some sort of economic opportunity and hope to the young people in the community.  Father Boyle has proven that he can get this done in some of the most depressed neighborhoods in East Los Angeles and I think with his support and guidance we can get it done here in Santa Ana.
The mission statement of Homeboy Industries is as follows:
Jobs not Jails: Homeboy Industries assists at-risk and formerly gang-involved youth to become positive and contributing members of society through job placement, training and education.
Father Boyle, while serving as pastor of Delores Mission parish in Boyle Heights, began a program called "Jobs For A Future" in 1988.  The programs objective was to offer alternatives to gang violence.  The program was quite successful and grew into what we now know as Homeboy Industries.  In August of 2001 Homeboy became an independent non-profit.
According to Homeboy's website, "Thousands of young people have walked through the doors of Homeboy Industries looking for a second chance, and finding community. Gang affiliations are left outside as these young people work together, side by side, learning the mutual respect that comes from shared tasks and challenges….Homeboy serves as a beacon of hope and opportunity for those seeking to leave gang life, for whom the barriers and challenges are great, and for whom there is virtually no other avenue to enter the mainstream."
Homeboy Industries operates a bakery, silkscreen business, maintenance operation, landscaping services, catering among other entrepreneurial ventures.  They even opened "Homegirl Cafe" which "provides a training ground dedicated to female clients in all aspects of the restaurant and service industry".
An overview of Homeboy's operation states, "Homeboy's services enable young people to redirect their lives and provide them with hope for their futures. Our free support services focus on case management, education (including Opportunities for Learning Charter High School), job training and placement, legal services, mental health counseling, twelve step meetings, pre-release and transition counseling, and tattoo removal."
I encourage all of our readers to visit Homeboy Industries website by clicking here and see for yourselves the wonderful work they are doing in the East Los Angeles community.
In the coming weeks I hope to meet with Mayor Pulido, councilmembers and city leaders about this.  I would like to get a group of folks together and set up a meeting with Father Boyle and the folks at Homeboy.  I really think this is a program that can work in our community.  If we all get behind this who knows how many lives we can change and save.  As the say at Homeboy, "Nothing stops a bullet like a job".