The Santiago Street Lofts will once again be conducting an Art Walk this Saturday, September 19, from 7 to 10 pm.
This Santiago Art Walk will feature the debut of a new exhibit, "Mustachio Rides Again."
Here is a description of the new exhibit: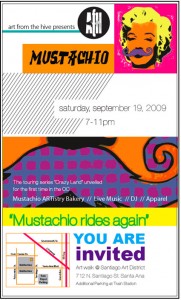 Stamping his iconic mustache across the land, LCAD Alumnus Cody Lusby (class of 2000) has evolved from his classically trained roots into Mustachio – a brush-wielding renegade who takes risks, fears nothing, and rides with no saddle.
Some say Mustachio is Cody's alter ego. In fact, the stark contrast between the artist's humble, soft-spoken nature and his in-your-face work is hard to miss. Mustachio's latest endeavor, CrazyLand, is defined by talent, technique and a mélange of mixed media (think borrowed road signs), resulting in vibrant, controlled chaos.
CrazyLand makes its Orange County debut Saturday, September 19th at Art from the Hive. The exhibit's opening will feature signature apparel, live music, a DJ and treats from the Mustachio Artistry Bakery. And since the 19th is September's third Saturday, the entire community will be out and about celebrating the monthly Santiago Street Art Walk.
CrazyLand will be available for private viewing from September 21 through October 16. The October 17 Santiago Street Art Walk will mark its closing exhibition.
The Santiago Lofts also have their own blog, which is an interesting read.