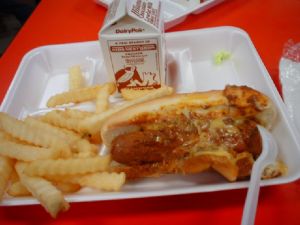 "Eight Santa Ana Unified School District (SAUSD) schools have been selected to participate in a U.S. Department of Agriculture (USDA) program in which students will receive free breakfast and lunch daily for the 2009-10 school year. In the program, every student is eligible at Davis Elementary, Diamond Elementary, Edison Elementary, Franklin Elementary, Heninger Elementary, Heroes Elementary, King Elementary and Pio Pico Elementary. These eight join 10 other SAUSD schools previously enrolled in the program last year for ongoing participation," according to the Santa Ana Unified School District (SAUSD).
"The USDA, which runs the free and reduced-price lunch program nationally, began the pilot program at districts across the country last year. Santa Ana Unified, the county's largest district with 55,000 students and 55 campuses, is the only district participating in Orange County," according to the O.C. Register.
The other schools that will be giving away free lunches to all their students include Jackson Elementary, Kennedy Elementary, Lincoln Elementary, Lowell Elementary, Madison Elementary, Roosevelt Elementary, Washington Elementary, Carr Intermediate, Community Day Intermediate and Community Day High School.
For more information about this program, from the USDA, click here.