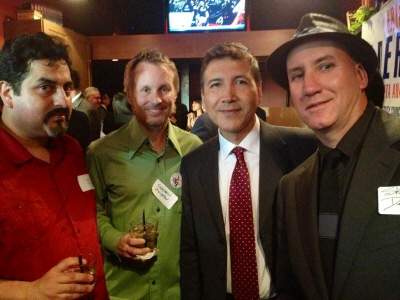 FOR IMMEDIATE RELEASE: September 28, 2012
CONTACT: Karia Salazar, PHONE: (714) 623-7185, EMAIL: salazar_karia@yahoo.com
Working Families Line Up in Support of Councilman Vincent Sarmiento for Re-election in Santa Ana City Council
Santa Ana, California – Councilman Vincent Sarmiento receives the backing of working families for his re-election to represent Santa Ana's Ward -1.
"We are proud to endorse Councilman Sarmiento for re-election. Councilman Sarmiento has a proven record of delivering for working families in Santa Ana . We look forward to working with him to build a smart, transparent and vibrant city," said Tefere Gebre, Executive Director of Orange County Labor Federation.
The Orange County Labor Federation represents 96 local unions and 200,000 members.Councilman Sarmiento has also received the endorsement of the Los Angeles/Orange County Building Trades Council.
"Proudly, we support Councilman Sarmiento because of his concern for working families, and his commitment to improve the economic health of the city," stated Doug Mangione, Political Director of International Brotherhood of Electrical Workers.
Vincent and his family have lived in and around Santa Ana since 1965. He attended John Muir Elementary, Sierra Elementary, and Willard Intermediate Schools . Vincent graduated from the University of California , Berkeley with a Bachelor of Arts in Economics. He received his Juris Doctorate from the University of California , Los Angeles School of Law. More recently, Vincent attended the Kennedy School of Government at Harvard University and successfully completed the Certificate Program for Senior Executives in State and Local Government. Presently, Vincent is the principal owner of a law practice in Santa Ana , with his wife, Eva, also an attorney. They have three children, ages 13, 10, and 7, whom they hope will learn the value of public service and contributing to their community.
###