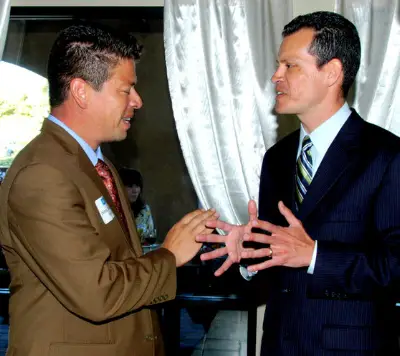 A curious thing happened at the Santa Ana City Council Candidates Forum hosted by Com Link last night.  The event moderator asked the candidates if they intended to support three ballot measures that are going to increase our sales, income and property taxes – Measure Q, a bond measure to fund remodeling projects at Santa Ana College; Prop. 30, the tax increase initiative backed by Governor Jerry Brown, which actually restores a few sales and income taxes that would otherwise go away; and Prop. 38, an even bigger tax increased backed by liberal millionaire Molly Munger, much to the chagrin of Brown. 
The candidates responded and it is worth noting that the faction that is supporting Council Member David Benavides, including Ward 1 candidate (and incumbent) Vince Sarmiento, Ward 3 candidate Eric M. Alderete and Ward 5 candidate Roman Reyna, all supported all of these tax increase measures.
Think about this for a moment.  There are quite a few Democrats who support only one of the two statewise tax increase meaures, either Prop. 30 or Prop. 38, but the Benavides cabal supports both of them – and Measure Q to boot.  This is terrible news for seniors and others on fixed incomes!
I am already on record as opposing Measure Q – we are already paying more for a previous bond measure that was wasted by the Rancho Santiago Community College District's Board of Trustees – they spent the money on the Santiago Canyon College campus and on a new Deputy Sheriff Training Center, that we did not need.  They did not do what they said they would do with the money, at Santa Ana College.  It was a bait and switch.  So no, I am not inclined to support yet another of these measures.
Prop. 30 is a tough one.  If it does not pass Gov. Brown says he will slash funding to the UC and CS systems and to our community colleges. 
Personally I believe that there are other alternatives to raising our taxes, such as getting rid of the death penalty, which wastes millions of dollars every year due to the many death row appeals – and in the end no one ever gets put to death.  So why not dump it and just put these inmates in jail for life – in fact you can put them in general population and the other inmates will take care of business themselves.
The state could also save millions by revising Three Strikes to include only violent felonies.  And by ending the drug war, particularly the ridiculous war on medical marijuana.
By the way if you think this is it for the tax increases that the Benavides cartel is going to support, you have another thing coming.  If Benavides wins and his faction does continue to dominate the City Council, I guarantee that when the Santa Ana police contract comes up these guys will give them everything they want – as the cop union has already endorsed Benavides and company.  And then these Council Members will put a public safety assessment on a special election ballot and force yet another tax increase down our throats.
It should be noted that the tax increase measures were opposed at the forum by Ward 3 candidates Charles Hart, Brett Elliott Franklin, Shane Ramon Barrows and Steve Rocco; and Ward 5 candidate Karina Onofre.  Kudos to them!  The O.C. Register article about the forum did not disclose what the mayoral candidates had to say about the tax increase measures.