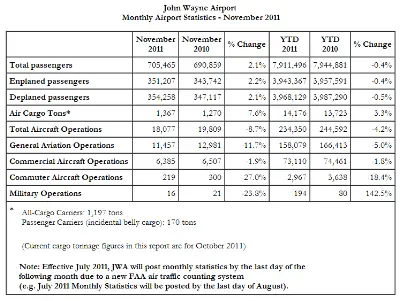 FOR IMMEDIATE RELEASE: January 3, 2012
Contact: Jenny Wedge , (949) 252-5182 (office), jwedge@ocair.com
JOHN WAYNE AIRPORT POSTS NOVEMBER 2011 STATISTICS
SANTA ANA, Calif. – Airline passenger traffic at John Wayne Airport increased in November 2011 as compared to November 2010. In November 2011, the Airport served 705,465 passengers, an increase of 2.1% when compared to the 690,859 passenger traffic count of November 2010.
Commercial aircraft operations decreased 1.9%, while Commuter aircraft operations decreased 27% when compared to the levels recorded in 2010.
Total aircraft operations decreased in November 2011 as compared to the same month in 2010. In 2011, there were 18,077 total aircraft operations (take-offs and landings), a decrease of 8.7% when compared to 19,809 total aircraft operations in 2010.
General aviation activity, which accounted for 63% of the total aircraft operations during 2011, decreased 11.7% when compared to 2010.
About John Wayne Airport:
John Wayne Airport (SNA) is owned by the County of Orange and is operated as a self supporting enterprise that receives no general fund tax revenue. The Airport serves approximately nine million passengers annually, reaches 20 non-stop destinations in the United States and Canada and is served by 10 commercial passenger airlines. More information can be found at www.ocair.com.
# # #