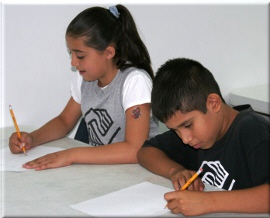 Boys & Girls Club of Santa Ana Press Release
Boys & Girls Club of Santa Ana Tackles High School Graduation Rates in Santa Ana
University of Phoenix Foundation Encourages Youth to Be Great and Graduate with National Education Initiative
Santa Ana, CA, January 2012- One in three youth in the United States fails to graduate each year. Additionally, one in two African American and Hispanic children, fall short of high school graduation. At the Boys & Girls Club of Santa Ana, we are working hard to combat these unsettling statistics through implementation of the BE GREAT: Graduate program, funded by University of Phoenix Foundation. As part of the program, Santa Ana youth will be set on the right track to high school graduation.
The BE GREAT: Graduate program is part of a national partnership between University of Phoenix Foundation and Boys & Girls Clubs of America. BE GREAT: Graduate helps young people who are the most vulnerable for dropping out of school to develop the academic, behavioral and social skills needed to be successful.
"By providing our members with the resources, mentorship and positive environment they need to progress through each grade to graduation, we are hoping to close the gap for young people in our community that fail to graduate each year," said Robert Santana, CPO of Boys & Girls Club of Santa Ana. "Thanks to the generous support of University of Phoenix Foundation, we can impact youth today for a brighter future tomorrow."
Targeting youth who exhibit warning signs for potentially dropping out of school, Boys & Girls Club of Santa Ana will mentor 50 youth over the next three years and provide intervention during the early warning signs of dropping out – also known as the ABC's – attendance, behavior and course failure. The program allows each participant to receive a graduation mentor to provide coaching and tutoring for academic success.
"Our University of Phoenix campuses are proud to partner with the Club on this exciting new initiative to improve the graduation rates of our community's youth," said Pat Gottfried, Executive Director, University of Phoenix Foundation. "At University of Phoenix we believe the path to higher education starts in childhood. This innovative program will help us all learn how we can help our at-risk youth overcome obstacles and reach new academic heights."
For more information on Boys & Girls Club of Santa Ana services and programs for Santa Ana youth, including BE GREAT: Graduate, visit http://www.boysandgirlsclub.com/.
About Boys & Girls Club of Santa Ana
The Boys & Girls Club of Santa Ana provides a positive, healthy learning environment for children in one of the most disadvantaged communities in the United States. Since 1954, the Club has brought stability to neighborhoods that have seen drugs, teen pregnancy and gang-related violence rock their foundations. With each year that passes, our curriculum takes progressively longer strides toward strengthening the academic aptitude, the physical fitness, the health awareness and the career ambitions of Santa Ana's children, preparing them to graduate high school and become productive citizens.
Our Club operates out of our central site, a 25,000 square-foot building, additionaly, we run five satellite sites at area public schools. Through services provided at these sites, we reach 2,700 children each year. Engaged, passionate, well-trained adults at each site provide monitored academic support, organized physical activities and life-applicable enrichment courses for every child.
We keep costs at $1 per month per member at the Club, which includes every afternoon throughout the entire year, and attendance at all satellite sites is funded by the Santa Ana Unified School District. Extended 12-hour days are available during the summer months, during which time lunch is served free-of-charge. The availability of scholarships ensures that no child is ever turned away.
The Club is more than a haven; it is an opportunity for children from disadvantaged circumstances to move forward as students, athletes, artists and citizens, down paths to bright futures for themselves, their families and their community.
About University of Phoenix
University of Phoenix is constantly innovating to help students balance education and life in a rapidly changing world. Flexible schedules, challenging courses and interactive learning help students pursue personal and career aspirations without putting their lives on hold. As the flagship university of Apollo Group, Inc. (Nasdaq: APOL), University of Phoenix serves a diverse student population, offering associate, bachelor's, master's, and doctoral degree programs from campuses and learning centers across the U.S. as well as online throughout the world. For more information, visit phoenix.edu.
Boys & Girls Club of Santa Ana
Robert Santana
Chief Professional Officer
(714) 543.5540
robertsantana@boysandgirlsclub.com
Boys & Girls Club of Santa Ana
Penelope Agosta
Director of Development
(714) 543.5129
pagosta@boysandgirlsclub.com