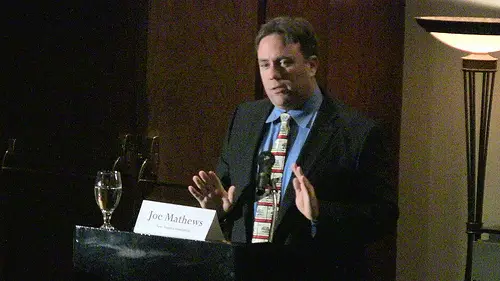 The League of Women Voters, Central Orange County Area and the Fourth District PTA present, on Wednesday, February 16, at 11:30 a.m., "Fixing California," featuring Guest Speaker Joe Mathews, the co-Author of California Crackup, a new book about the reasons for California's governance problems and how they might be solved.
Matthews is an Irvine senior fellow at the New America Foundation and a fourth-generation Californian, writes about his home state and its politics, media, labor, and real estate. He is the author of The People's Machine: Arnold Schwarzenegger and the Rise of Blockbuster Democracy (PublicAffairs, 2006), an account of Governor Schwarzenegger's first term and his use of ballot measures as governing tools.
Before joining New America, he was a reporter for eight years at theLos Angeles Times, where he covered state and presidential politics, education, labor, and the city of Compton. Previously, he covered the Justice Department for The Wall Street Journal. He began his career in 1994 as a reporter on the city desk of the Baltimore Sun, where he wrote about urban issues and the environment. His coverage of a down-on-its-luck neighborhood of former slaughterhouses earned him the incomparable title, "Bard of Pigtown." His stories have appeared in The New Republic, The Washington Post, Politico, and Condé NastPortfolio. He writes regularly on the web at NBC's Prop Zero, Fox and Hounds Daily, and The Daily Beast.
Buy California Crackup at UC Press
Buy California Crackup at Barnes and Noble
Buy California Crackup at Borders
Buy California Crackup at Amazon
Buy California Crackup at IndieBound
The event will be held at the The Red Lion Inn, located at 1850 S. Harbor Blvd., Anaheim 92802.  The cost is $20, including lunch.  It is payable at the door.  There is also a parking fee: $5 (Carpooling is encouraged.)
Space is limited and reservations are required by February 9.
Lunch choices are a turkey, ham, roast beef or vegetarian sandwich, with potato salad and a soft drink or iced tea. Please indicate your lunch preference when you make your reservation.
To make your reservations contact:
Joan Hake (714) 245-0567 or hakehome@sbcglobal.net
Gisela Meier (714) 637-5698 or ghmstein@aol.com