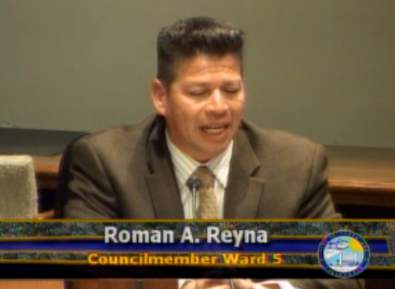 Santa Ana Council Member Roman Reyna's official city bio says he is an "Orange County Case Manager at the Orange County Department of Education."  We questioned that hire as Reyna has a high school diploma – not a college degree.
We contacted several Trustees of the O.C. Department of Education and one of them sent us this answer:

I did some research on Roman Reyna and was provided with additional information. Mr. Reyna is a short-term employee who was hired by staff in the normal course of business. Neither the Superintendent nor the Deputy Superintendent were involved in the hiring process.

His position is funded by a grant and his employment will terminate June 30th. He supports our ACCESS program working with high risk youth. Part of the reason that our graduation rates are higher than other counties with similar demographics is that when a student is absent for a period of time we don't just assume that he/she has dropped out. We go looking for these students providing resources and interventions to get them back in our schools and programs. 

Mr. Reyne's duties are comparable to what might be called a Truant Officer in my day. Therefore a college degree is not necessary.
So there you go.  Reyna is a temp.  When his contract runs out in June he will have to find another job.  The good news is that he did not apparently land this job by virtue of his political connections.