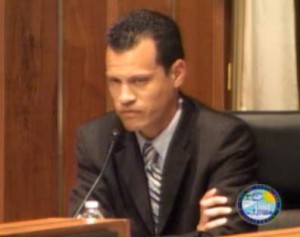 Your annual Orange County Sanitation District fee is going to go up – and our representative on the OCSD Board of Directors, Councilman David Benavides, voted for the increase.
OCSD sanitation fees have gone up an astounding 61% since 2005, according to our sister blog, OC Politics.  And thanks to Benavides they are going up again – The board voted 18-7 to increase sewer service charges by 4.8 percent this year and 2.4 percent each of the next four years. On July 1, the annual fee for the average single family home will become $14 in 2013 and about $8 each of the next four years. The 2013 fee of $294 will be $339 by 2017-18.
I contacted the OCSD and their PIO, Jennifer Cabral, said that "The reason for the proposed rate increase is to cover cost of inflation on items such as chemicals, power, and biosolids hauling."
Biosolids?  That sounds familiar.  The O.C. Register's Watchdogger Tony Saavedra reported that "In 2005, Atlanta-based EnerTech Environmental Inc. sold the Orange County Sanitation District and waste treatment plants from Los Angeles, Riverside and San Bernardino counties on a way to turn their biosolids – it is what it sounds like – into clean-burning coal-like pellets."  The process was a big fail. The result of this scam was that the OCSD lost millions of dollars!
But the OCSD directors did not learn their lesson, "The Orange County Sanitation District dropped EnerTech in June, but not before spending $3.5 million more than it should have to get rid of its biosolid wastes…Orange County got a chance to dump the contract in 2011, but gave the biosolids plant another chance."
And this is the same agency that funded a yoga priest, revealed by a scathing audit in 2005, resulting in the resignation of its General Manager, according to another OC Politics blog post.
Especially unacceptable is the idea that San Districts in third-world LA County operate at better than HALF THE COST of the OCSD after the proposed increase ($149 vs. $339 annually per average single-family home, a 125% difference), according to the OC Politics Blog.
This is what Benavides voted for.  And by the way he is being paid handsomely to be our representative on the O.C. Sanitation District's Board of Directors.  He is being paid $9,150 a year for attending one board meeting per month, according to an audit by the OC Grand Jury.  Click here to see the rest of his compensation, which includes $12K a year in car allowance payments.