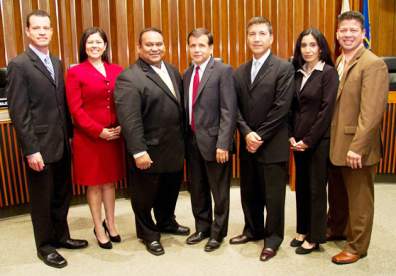 Diverse? No!
The last time someone tried to change our City Council elections from at large to ward specific the effort failed, primarily because white voters were told that the infamous Nativo Lopez was behind the scheme.  And he was.  At the time the only way anyone ever figured that we would have more Latinos on the City Council would be via ward-specific elections.
Well now we have an all-Latino City Council and they're an embarrassment.  As the city reels in yet another budget crisis they wasted weeks firing our City Manager, Paul Walters, so they could hire a temp, Kevin O'Rourke, who is costing us over $22K a month.  In Santa Ana that passes for progress.
If we had a ward-specific election system it is likely that former Council Member Brett Franklin would have won in Ward 3 last year.  Instead a total unknown, Angelica Amezcua, who did not even campaign, won.  She of course joined the other Council Members in firing Walters, proving she too is worthless.
A ward-specific system might give a Vietnamese candidate a shot at a Council seat, but as others have pointed out, the Council's 2012 redistricting gerrymandered the Vietnamese community to such an extent that they might have to sue to reverse the redistricting, if they are to have a real shot at a Council seat.
The bottom line though is that if you want a diverse Council now then you simply must support ward-specific elections.  They are also a great way to get rid of candidates who are funded by special interests.  Anyone can walk one ward.  Walking the whole city is impossible.  So the moneyed candidates resort to mail, lots of it.  Ward specific elections will even the tables!  In a ward specific system neighborhood activist Jim Walker would have probably beaten Vince Sarmiento four years ago.
Not everyone is a fan of Ward-Specific elections.  Some people say that these type of elections discourage unity and result in Council Members who only care about their wards.  That might come true in some areas.  But do we really want a Council full of lemmings?  That is what we have now.
Here is a list of cities that elect their Council members by districts/wards:
Charter Cities

Bakersfield (212,715)
Berkeley (105,855)
Dinuba (14,638)
Downey (92,092) 1 council elected at-large
Fresno (367,684)
*Inglewood++ (116,032)
*Long Beach (442,106)
*Los Angeles (3,638,148)
*Oakland (386,779)
*Pasadena (137, 136
*Pomona (139,792)
*Redondo Beach++ (63,913)
*Riverside ++ (247,800)
*Sacramento (396,032)
Salinas (122,468)
*San Bernardino (185,942)
*San Diego (1,197,676)
*San Jose (849,363)
*Seal Beach (26,795)
Stockton (234,009)
Watsonville (34,248)
++ In these cities, if no one gets 51% of the vote, then they have a run-off election at a later date.
General Law Cities

Bradbury (890)
??Coachella?? (21,038
Colton (45,479)
Hanford (38,469)
Hollister (24,698)
Moreno Valley (135,635)
Parlier (9,452)
West Sacramento (30,231)
And here is a list of cities that nominates council members from districts or wards but elects them at large:
Charter Cities
Alhambra (88,518)
*Compton (93,268)
*Eureka (28,606)
Newport Beach (70,098)
San Leandro (72,307)
Santa Ana (337,977) (Census of Population, 2000) 78,217 (Orange County Registrar of Voters, Map Section, 01/16/02)
General Law Cities

*Cities with primary elections
Population figures from League of Cities database, July 1997
Amazing.  Only a handful of cities conduct their local elections the way Santa Ana does.  And Santa Ana is by far the largest city that conducts elections in this manner.
Our current system is dated and it needs to go.