Irv Chase's promoter, Archer Altstaetter, told NBC yesterday that the Chase family is "upgrading and investing in their buildings, without any malice toward anyone."  "It's no different than the Irvine Company or any other retailer in a mall saying hey, if your stores are not clean, you're out," said Altstaetter.
Excuse me?  Did Archer just blame the "dirty Mexicans?"  You can see his commenting about this in the video provided above.
The reality is that it is Archer who is running a less than pristine business.  He recently opened a store called Outrageous Costumes and Couture.  I wrote about it here.  The store featured a paper sign, in the window, and embarrassing merchandising.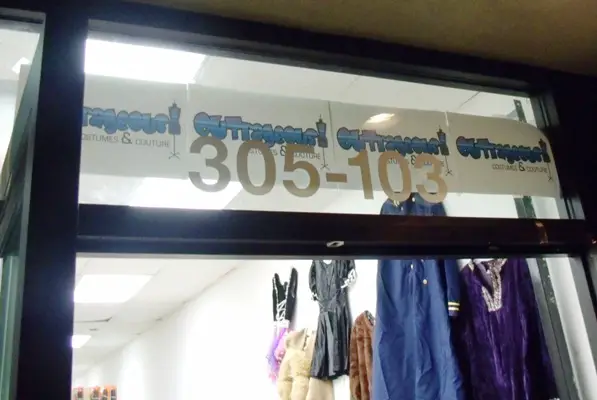 In stunning contrast, a new Latina-owned business, called Elegante Formals, looked great when it opened up, on the same weekend that Archer's store celebrated its grand opening.
To make matters worse, Archer got busted by the City of Santa Ana for opening a business without a business license.
Archer isn't the only PBID beneficiary who has been mouthing off about Latino-owned businesses in the Downtown Santa Ana area.
Tim O'Connor, one of the owners of Downtown Santa Ana's Chapter One: the Modern Local restaurant, recently opined at a Santa Ana City Council meeting that there are too many quinciniera shops in the area. Here is how he was quoted in the pages of the OC Weekly:
"This is specifically for most of the stuff on Fourth Street," O'Conner remarked, even though he was addressing the City Council and not a Chamber of Commerce meeting. "You can't have the same shop, the same stores, the same exact same quinceanera shop across from the exact same quinceañera shop…exact same thing over and over again and expect to be successful. Times have changed. Fourth Street should change with those times."
It is bad enough that these guys are ripping off Latino business owners in the Downtown area, with a PBID that was only passed because former Santa Ana City Manager gamed the vote.  But to have them rip Latino business owners incessantly is simply insulting.  It borders on hate speech.  Why are they allowed to get away with these comments?